The crisp air, scary costumes, screams, and terror will soon be back at Camp Anderson's Fearfest in Tyrone, PA.
The 15th annual Halloween event will be held on October 20, 21, 27, and 28 from 6 pm to 11 pm.
Tickets are $10.00 for the haunted house with hayride and $8.00 for escape rooms and Orbeez shooting.
This year the event will also include a Zombie 5k Trail Run on October 21 hosted by the Tyrone Race Series.  Proceeds from the race will benefit the Tyrone-Snyder Public Library and Camp Anderson.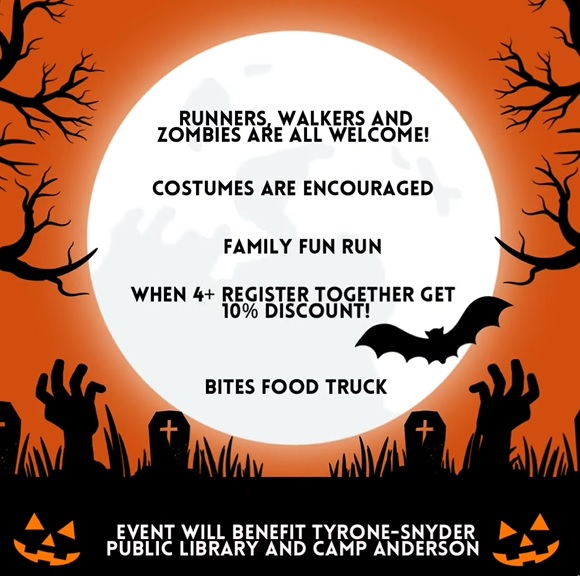 Free parking for all event days will be available at Smith Transport with a free shuttle to and from camp.
The parking lot will close promptly at 11 p.m. but all FearFest activities will remain open until all customers have gone through the attractions. They may be open until 1 AM or longer if it is busy.
All money raised at the event goes to the non-profit Camp Anderson Corporation which operates and maintains the camp for use by the community.
The event organizers are also looking for volunteers to help with setup, performance, and clean-up.
Volunteer jobs include builders, make-up artists, cooks, tour guides, ticket takers, painters, shooting range assistants, screamers, actors, jugglers, costume designers, and escape room assistants.
Construction days are October 6, 7, 8, 13, 14, and 15.
Volunteers are welcome to bring a tent and camp in the designated areas for the event. The shower house will open along with meals and snacks provided from Friday through breakfast on Sunday.
Service at this event may qualify students for community service and volunteer hours required by their school or other service organizations.
To fill out the volunteer form click this link: Camp Anderson Volunteer Form
For more information or questions about volunteering please e-mail [email protected]