Book Review: Ballad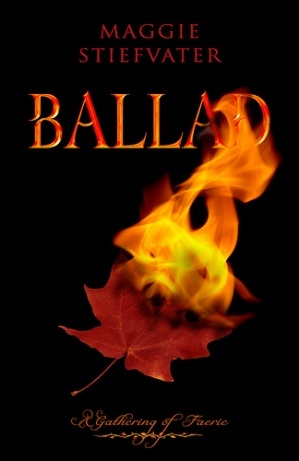 4.5/5 Stars
Faeries. They've always seemed a bit preschool, "happily ever after,"  children's bookish to me. I love fantasy novels, but generally with dragons, orks, or elves.
When I first picked up Ballad, a book about faeries, the last thing I expected was for it to actually be good.  But the cover was appealing, which, despite the saying "don't judge a book by its cover", I judged it anyway.
I remember thinking to myself, "How can a book about faeries possibly be good?" Then, as I continued reading, I discovered they were "soul stealing" faeries and there was a love affair within. Slightly more appealing.
I began reading. I got pulled into a world with a sarcastic freshman college student, James, who had the biggest crush on his best friend of nine years, Dee. James was a music prodigy with the pipes- an unlikely instrument. Faeries love to feed on the souls of talented prodigies. When Nuala, a faerie, discovers James' talent, at first, she wants nothing more than to take part of his life and gain satisfaction from his sheer talent. However, over time, that all changes as James falls in love with someone he shouldn't be in love with, and Nuala reciprocates, with consequences of course.
Maggie Stiefvater does an amazing job at characterizing James, one of the main characters. Right off the bat, you see that he's sarcastically funny. His comments are rather amusing and you grow really close to James as a character. You know what he wants and you want him to have it too. All of Maggie Stiefvater's characters are fairly complex, which makes it a pleasure to read.
Not only does Maggie Stiefvater do a spectacular job at characterizing James, but she also writes in a unique fashion. The book is written in first person, each chapter from the point of view of a different character. Chapter 1 might be James speaking, whereas Chapter 2 may be Nuala speaking. It lets you get into the heads of multiple characters, something that's uncommon in first person writing.
You still might be thinking to yourself, "Hmph. Faeries. Love stories. So typical. So fairytale." But you couldn't be more wrong.
Like I said, I had that first inclination as well that it was just going to be some lame, cheesy fairytale and faeries were stupid. But Maggie Stiefvater proved me wrong. Ballad was one of my favorite books, and there's never a dull moment while reading it.
If you're looking for a well written book with a complex plot and diverse characters with a hint of love, I highly recommend Ballad by Maggie Stiefvater.
Leave a Comment
About the Contributor
Karah Kaltenbaugh, Staff Photographer
Karah is a Junior at TAHS. She runs track, goes snowboarding, loves to write, and her biggest passion is photography. She loves taking pictures of macros and...