'Be Golden' Teacher of the Week: Mrs. Tiffany Smith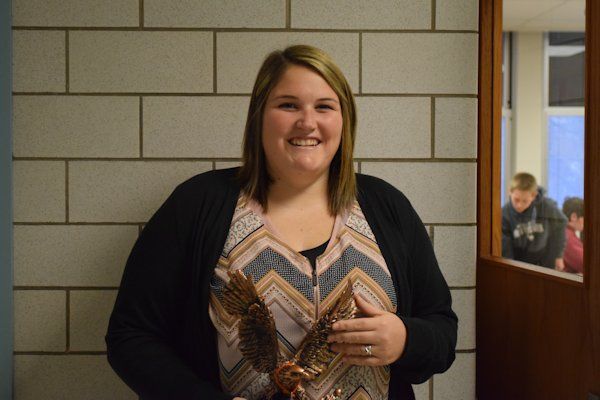 The "Be Golden" award is a new faculty and staff recognition program at the high school.
This award is given weekly by a faculty/staff member to another faculty/staff member. Whoever receives the trophy on Friday is responsible for awarding it to someone else the following week. The only criteria are to give it to someone who has done something to make the school a better place.
"With the Positive Behavior Interventions and Supports (PBIS) initiative in our school, we want to not only recognize students for being golden but staff members as well," said Shannon Davis, the award program coordinator. "This is a way to personally thank people we work with every day, but don't always have the chance to show them how much they are appreciated."    
Last week the award went to Mrs. Chrystie Williams.
Mrs. Williams chose to give the award to Mrs. Tiffany Smith.
Mrs. William's Quote:
"Mrs. Smith is one of the BEST teachers that I have ever worked with in Tyrone.  She sets high expectations for her students and it shows in their math performance over the course of the year.  Mrs. Smith gives 100% in her classroom each day and her students give it right back.  When she is not coaching basketball or soccer, you can find her attending games to cheer on her students.  If you stop by Mrs. Smith's classroom, you will see a teacher who loves what she does.  I am pretty sure she was born to mentor, coach, and teach!"
The Eagle Eye interviewed Mrs. Smith about being this week's award winner:
Eagle Eye: What encouraged you to become a teacher?
Tiffany Smith: "I was fortunate to have some amazing teachers and coaches throughout high school that greatly impacted my life – Mr. Bloom, Mrs. Cannistraci, Mrs. Marasco, and Mrs. Deskevich. I wanted to work with youth in a similar fashion, I just wasn't sure how at first. After working numerous summer camps and realizing I loved working with teenagers, I decided teaching was a great career for me. I hope that throughout my career I can make an impression on some students in the same way these individuals were amazing role models for me."
EE: What do you enjoy most about being a teacher?
TS: "I love getting to know my students each year and forming relationships with them throughout the school year. Once those relationships are formed it is awesome seeing them grow as students, expanding their knowledge and skills over the course of the school year. I also enjoy working alongside an amazing group of colleagues that certainly make this job enjoyable."
EE: Is this your dream job? If not, what is?
TS: "I truly cannot imagine myself doing anything else as a career. I love my job, the students, staff, and environment here at Tyrone High School!"
View Comments (3)
About the Contributor
Ava McCracken, Staff Writer
Hi! My name is Ava McCracken. I am a senior this year and this is my third year in Eagle Eye. I'm number two on the tennis team, so I plan on writing...