'Be Golden' Teacher of the Week: Mrs. Chrystie Williams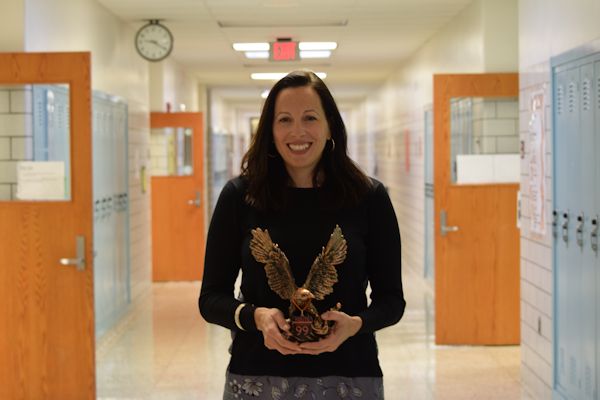 The "Be Golden" award is a new faculty and staff recognition program at the high school.
This award is given weekly by a faculty/staff member to another faculty/staff member. Whoever receives the trophy on Friday is responsible for awarding it to someone else the following week. The only criteria are to give it to someone who has done something to make the school a better place.
"With the Positive Behavior Interventions and Supports (PBIS) initiative in our school, we want to not only recognize students for being golden but staff members as well," said Shannon Davis, the award program coordinator. "This is a way to personally thank people we work with every day, but don't always have the chance to show them how much they are appreciated."    
Last week the award went to Susan Cannistraci.
She chose to give the award to Mrs. Chrystie Williams.
Mrs. Cannistraci's Quote:
"'The task of the excellent teacher is to stimulate apparently ordinary people to unusual effort. The tough problem is not in identifying winners: it is making winners out of ordinary people' (Patricia Cross). I feel fortunate to work in the Tyrone School District with so many extraordinary teachers.  Chrystie Williams is the epitome of an excellent teacher.  Whereas half of the school districts in the state do not meet the standard for PA academic growth, Mrs. Williams ensures our students exceed the standard for academic growth. Ask any teacher who works cooperatively with Chrystie and they will rave about her.  Whether she is assisting students during a lab, reteaching complex concepts or tracking missed assignments, Chrystie is irreplaceable in the classroom.  Finally, and perhaps most importantly, Mrs. Williams guides students to become the best versions of themselves through patience and grace."
The Eagle Eye interviewed Mrs. Williams about being this week's award winner:
Eagle Eye: What encouraged you to become a teacher?
Chrystie Williams: "When I was little, I had a mini chalkboard easel and student desk. I would force my family to play school with me, and I always had to be the teacher. I suppose I have just always wanted to be a teacher since I can remember."
EE: What do you enjoy most about being a teacher?
CW: "Helping students and working with the other teachers is the best part of my day. No day is ever the same which keeps it interesting."
EE: Is this your dream job? If not, what is?
CW: "I can't think of another place that I would rather be each day."
View Comments (1)
About the Contributor
Ava McCracken, Staff Writer
Hi! My name is Ava McCracken. I am a senior this year and this is my third year in Eagle Eye. I'm number two on the tennis team, so I plan on writing...