'Be Golden' Staff Member of the Week: Mr. Bob Wilson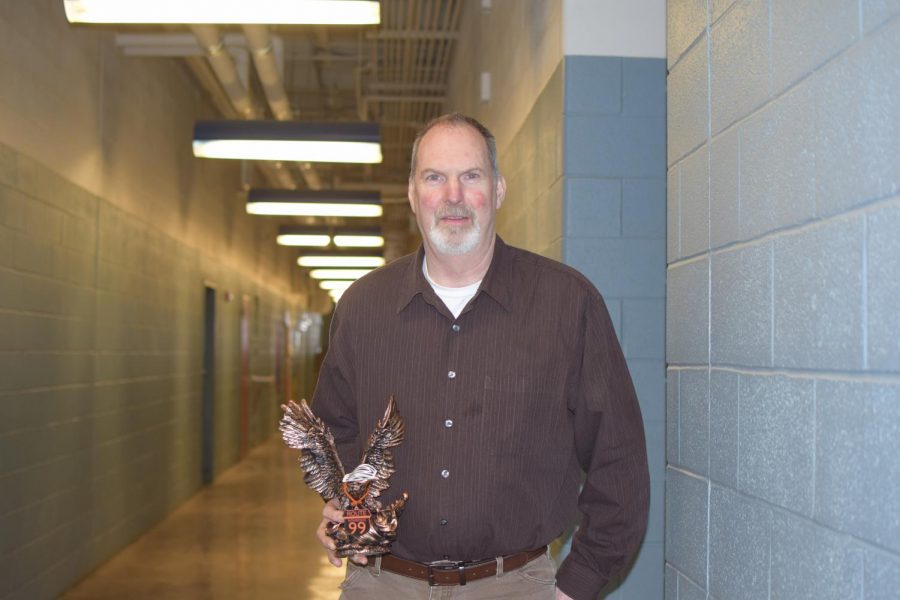 The "Be Golden" award is a new faculty and staff recognition program at the high school.
This award is given weekly by a faculty/staff member to another faculty/staff member. Whoever receives the trophy on Friday is responsible for awarding it to someone else the following week. The only criteria are to give it to someone who has done something to make the school a better place.
"With the Positive Behavior Interventions and Supports (PBIS) initiative in our school, we want to not only recognize students for being golden but staff members as well," said Shannon Davis, the award program coordinator. "This is a way to personally thank people we work with every day, but don't always have the chance to show them how much they are appreciated."
Last week the award went to Mr. Mark Estright
He chose to give the award to Mr. Bob Wilson
 Mr. Estright's Quote:
Bob Wilson (Carpentry Shop) is the next recipient of the Be GOLDEN award.  Bob is a true inspiration!  After seriously being injured in an accident several years ago, Bob pushed forward and came to work here as an assistant in the Carpentry Shop.  He maintains a positive attitude through it all and is always cheerful and upbeat.  He communicates well with the students and goes above and beyond to help them with their projects.  He has great personal knowledge in the carpentry field and his accomplishments and talents are making a difference in the lives of these students.  After hours, when he is able to attend, you will find Bob at various school athletic events cheering the students on and giving them his full and ongoing support.  Thank you, Bob, for what you do!  You deserve this noteworthy acknowledgement!
The Eagle Eye interviewed Mr. Gruber about being this week's award winner:
Eagle Eye: What encouraged you to become a carpentry assistant?
Bob Wilson: Taking a boy out with a company after 23 years. This opportunity came up so I thought I'd give it a chance. 
EE: What do you enjoy most about being a teacher?
BW: Working with the students and teaching skills to help them prepare for their futures. 
EE: Is this your dream job? If not, what is?
BG: Semi-retired cabinet maker. 
About the Contributor
Lindsey Walk, News Editor
Hello there! My name is Lindsey Walk and I am a senior this year at TAHS. This is my second year being involved in Eagle Eye and I am so excited to be...