'Be Golden' Staff Member of the Week: Ms. Gabby McLarren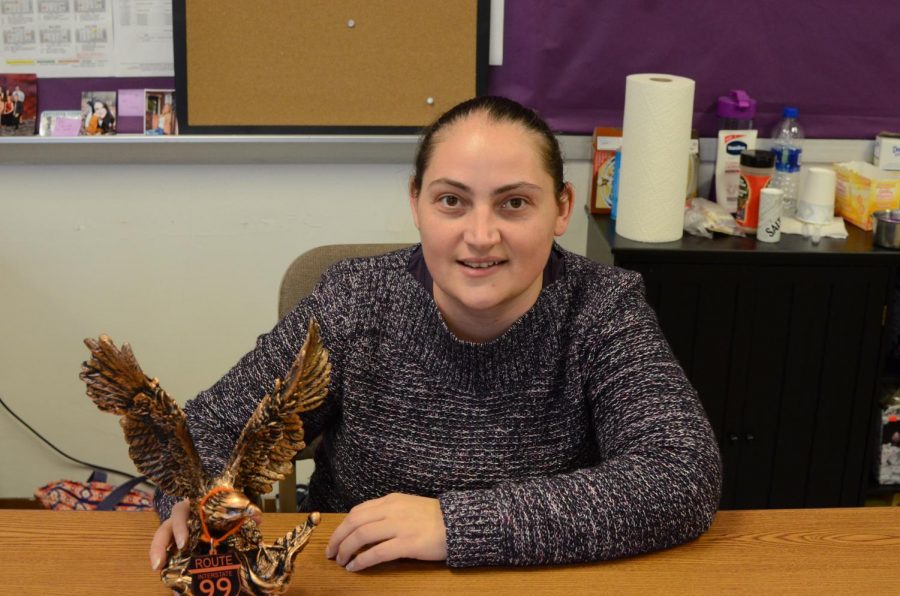 The "Be Golden" award is a faculty and staff recognition program at the high school. It is given to a teacher or staff that is making a difference at Tyrone.
This award is given weekly by a faculty/staff member to another faculty/staff member. Whoever receives the trophy on Friday is responsible for awarding it to someone else the following week. The only criteria are to give it to someone who has done something to make the school a better place.
"With the Positive Behavior Interventions and Supports (PBIS) initiative in our school, we want to not only recognize students for being golden but staff members as well," said Shannon Davis, the award program coordinator. "This is a way to personally thank people we work with every day, but don't always have the chance to show them how much they are appreciated."
Last week the award went to English of a second language and cyber administrator Rebecca Barlett 
She chose to give the award to study hall monitor Gabby McLarren
Ms. Barlett quote:
"Gabby McLarren is not only creative (she knows how to decorate a showcase like nobody's business), but she is also caring and conscientious about helping students.  Taking on the role of the Quiet Study Para-Professional last year, Gabby has used her organization, communication, and academic skills to effectively help students succeed in the many programs that we offer.  Students seek out her help as she is not only encouraging and supportive but also firm and frank with them. Gabby also participates in fun events available to students as she is a co-advisor for both Prom and Speech Team.  She cares about the students at TASD, and it shows!"
The Eagle Eye interviewed Ms.McLarren about being this week's award winner:
Eagle Eye: Why did you go into education?
Gabby McLarren: "I did not "go into education" the way most people do. Truthfully it was a job that was close to home and I thought it would not be bad to work with kids. That being said, I do enjoy helping the students with academics and being another support for them at school." 
EE: What makes Tyrone a good place to work?
GM: "For me Tyrone is a good place to work because of my co-workers and the location is close to home."
EE: What is your favorite memory at Tyrone?
GM: "I do not have a "favorite" memory but my fondest memories include decorating the library display cases, making new friendships with staff, and helping struggling students achieve success and seeing them cross the auditorium stage at graduation."
About the Contributor
MacKenzie Hyde, News Editor
MacKenzie Hyde is a sophomore at Tyrone. She loves to be involved in her school and community. This is her second year of writing for the Eagle Eye. This...