'Be Golden Staff Member of the Week: Mrs.Tracy Redinger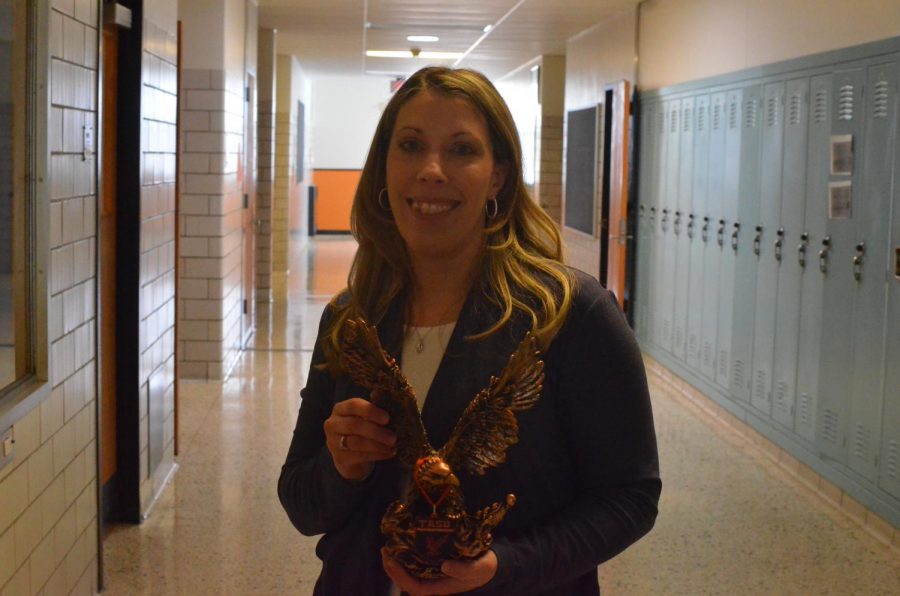 The "Be Golden" award is a faculty and staff recognition program at the high school. It is given to a teacher or staff that is making a difference at Tyrone.
This award is given weekly by a faculty/staff member to another faculty/staff member. Whoever receives the trophy on Friday is responsible for awarding it to someone else the following week. The only criteria are to give it to someone who has done something to make the school a better place.
"With the Positive Behavior Interventions and Supports (PBIS) initiative in our school, we want to not only recognize students for being golden but staff members as well," said Shannon Davis, the award program coordinator. "This is a way to personally thank people we work with every day, but don't always have the chance to show them how much they are appreciated."
Last week the award went to senior and DE English teacher Ms. Kathy Beigle
He chose to give the award to World Cultures and American History teacher Mrs.Tracy Redinger
Ms. Beigle's quote:
"Mrs. Red, Mama Red, or Mrs. Redinger. She's described as "lovingly sarcastic, a mom to everyone, a bit 'salty' at times, and a fun and kind teacher." That's how her students lovingly refer to Tracy Redinger.
She's kind, empathetic, patient, and goes out of her way to ensure her students receive the attention they need and deserve. When not in the classroom teaching World Cultures or American History, she also gives back to the community, both near and far. She puts countless, extra hours into YAN and is an amazing example of what it means to be truly GOLDEN. It gives me great pleasure to pass the BE GOLDEN award to Tracy Redinger."
The Eagle Eye interviewed Mrs.Redinger about being this week's award winner:
Eagle Eye: Why did you go into education?
Tracy Redinger: "I went into education because I knew that really liked helping people and I really enjoyed the social studies courses I had taken in high school and college.  It made teaching high school a good fit for me!" 
EE: What makes Tyrone a good place to work?
TR: "I really enjoy teaching at Tyrone High!  The staff is wonderful to work with, the kids are great, and our high school, overall, is a pretty tight-knit community."
EE: What is your favorite memory at Tyrone?
TR: "I have a lot of great memories here…how do you pick just one?!  But, I think one of my favorite memories is the time that our daughter was born 5 weeks early and the high school had a dress down day for my family.  I took the 1st semester off of school to be home with her and having those funds come in during a pretty stressful time was a tremendous help!  I don't think my husband and I will ever forget how grateful we were to have my colleagues do that for us!"
About the Contributors
MacKenzie Hyde, News Editor
MacKenzie Hyde is a sophomore at Tyrone. She loves to be involved in her school and community. This is her second year of writing for the Eagle Eye. This...
Hailey Vanish, staff writer
Hailey Vanish is a sophomore this year at Tyrone High School and it is her second year of Eagle Eye. Throughout the year, you can find her playing soccer...