'Be Golden' Staff Member of the Week: Mrs. Molly Stroup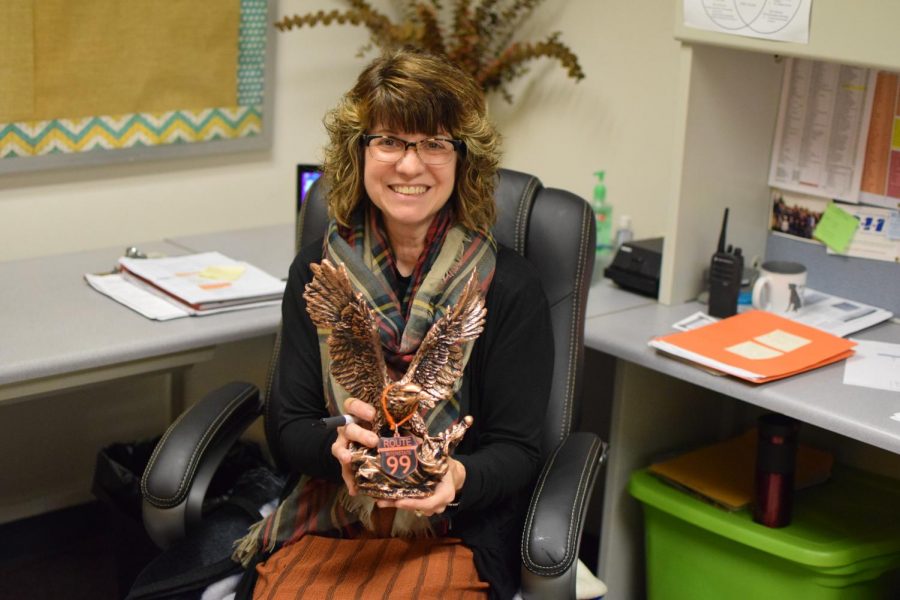 The "Be Golden" award is a faculty and staff recognition program at the high school. It is given to a teacher or staff that is making a difference at Tyrone!
This award is given weekly by a faculty/staff member to another faculty/staff member. Whoever receives the trophy on Friday is responsible for awarding it to someone else the following week. The only criteria are to give it to someone who has done something to make the school a better place.
"With the Positive Behavior Interventions and Supports (PBIS) initiative in our school, we want to not only recognize students for being golden but staff members as well," said Shannon Davis, the award program coordinator. "This is a way to personally thank people we work with every day, but don't always have the chance to show them how much they are appreciated."
Last week the award went to the school nurse Mrs. Tracy Miller
She chose to give the award to the social worker Mrs. Molly Stroup
Mrs. Miller quote:
"I nominate Molly Stroup for the Be Golden Award! Molly is devoted and dedicated to the students of our district. She goes above and beyond to help students on issues that affect their health, welfare and education. She's an asset to our district and community! Thank you Molly for all that you do!"
The Eagle Eye interviewed Mrs.Stroup about being this week's award winner:
Eagle Eye: Why did you go into education?
Molly Stroup: "I am a licensed social worker who spent 20 years in child protective services prior to coming to TASD. I transitioned to TASD and school social work 16 years ago because I was offered an opportunity to work closer to home, increase my salary and work directly with students and families in a prevention capacity."
EE: What makes Tyrone a good place to work?
MS: "I worked with eight other school districts in my previous job, but none compare to TASD in the following ways:
TASD has built a capacity to serve a diverse population of students, demographically and culturally.

TASD takes pride in being a front leader in providing a continuum of educational programs so that literally "no child is left behind" if they simply join with us. Not everyone has the same learning style, speed or capacity and TASD is the only school I have worked with that looks for gaps in serving kids and tries to fill them.

TASD staff genuinely care about kids and they are highly skilled at what they do.  After sitting in many classrooms to complete student observations, I honestly can say that teaching is a dynamic skill that requires natural and learned abilities. Our teachers are motivated, energetic, creative and know their material well.

"
EE: What is your favorite memory at Tyrone?
MS: "I have many great, fun and positive memories that have included NHS students, alt ed students and close friends who I share lunch with. But one memory that sort of reflects my profession is the time I went looking for a high school student. She was living in on the second floor of an abandoned building that had been a factory. It was pitch dark as I entered the building so I used a flashlight to make my way up the stairs. On the second floor there was a Doberman whose job was clearly to guard the premises and he was barking to alert everyone that I was there. There were two make-shift apartments as well on this floor and the student I was looking for was staying in one of them. I encountered a man as I made my way to the light coming from one of the apartments (not in the direction of the dog) and he told me I was trespassing and that I better leave before something happened. I identified myself and told him who I was looking for. He said no one by that description lived there, but I watched her go into the building. So, I told him if I left without her, I would be back with the police. I told him that if she was found to be living there in what we can refer to as a "quid pro quo" that he could face an arrest. He promptly took me to her, and I got her out of that situation permanently. This memory is one which reminds me that some students come to school as often as possible while combating situations other teens would never dream of, would never have to contend with and which interfere substantially with basic needs such as food, clothing, shelter, medical care AND with studying. Its not a level playing field yet, most education systems are set up as if it were. TASD and its staff are the exception and this is why I do what I do."
About the Contributor
MacKenzie Hyde, Staff Writer
Hi! My name is MacKenzie Hyde and I'm a freshman here at Tyrone. I am a varsity cheerleader for the Golden Eagles. I also co-coach the Redskins Peewee...