'Be Golden' Staff Member of the Week: Mr. Randy Gorecki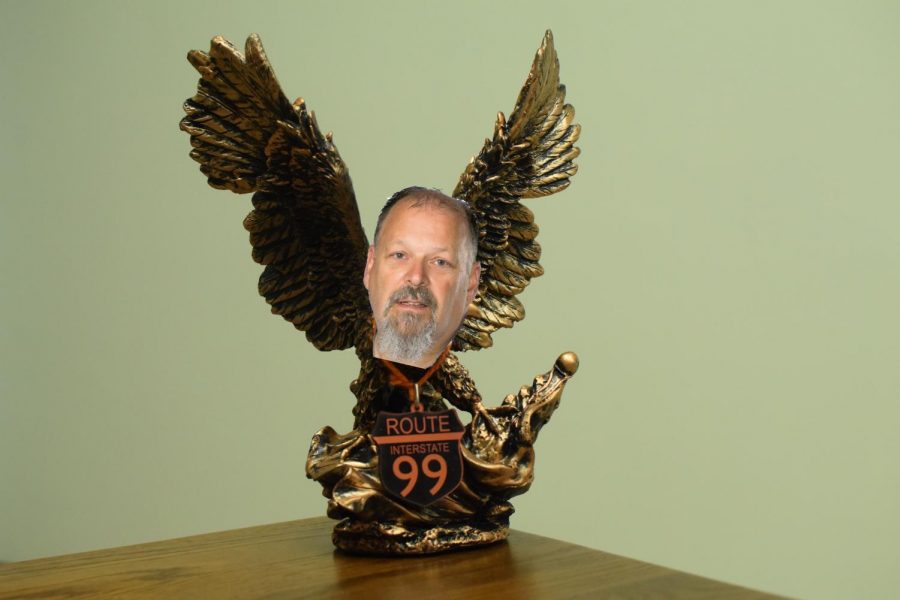 The "Be Golden" award is a new faculty and staff recognition program at the high school.
This award is given weekly by a faculty/staff member to another faculty/staff member. Whoever receives the trophy on Friday is responsible for awarding it to someone else the following week. The only criteria are to give it to someone who has done something to make the school a better place.
"With the Positive Behavior Interventions and Supports (PBIS) initiative in our school, we want to not only recognize students for being golden but staff members as well," said Shannon Davis, the award program coordinator. "This is a way to personally thank people we work with every day, but don't always have the chance to show them how much they are appreciated."
Last week the award went to custodian Mr. Tommy Hunter.
He chose to give the award to custodian Mr. Randy Gorecki.
Mr. Hunter's Quote:
"Famously known for his baby blue button work shirts and his windbreaker pants, he's the guy you call for throw up. Even if you call Jimmy, Jimmy calls Randy. He will stay late and help out when someone calls off. Not only does he do his job, he does half of Jimmy's job too. He keeps our hunger cravings at bay with the endless supplies from Randy's Snack Shack and on special occasions we are blessed with Randy burgers. He has a pretty good attitude!  This award goes to Randy Gorecki!"
The Eagle Eye interviewed Mr. Hunter about being this week's award winner:
Eagle Eye: What do enjoy most about Tyrone?
Randy Gorecki: "I come from a big city, so I like the small town feeling. It's a little more laid back here."
EE: What do you enjoy most about working with students?
RG: "I don't work much with the students, but I like watching my grandchildren growing up in school."
EE: How has Tyrone and the atmosphere impacted your life?
RG: "I like the small town atmosphere and watching my family grow up here over the last 39 years."
About the Contributors
Lindsey Walk, News Editor
Hello there! My name is Lindsey Walk and I am a senior this year at TAHS. This is my second year being involved in Eagle Eye and I am so excited to be...
Haydn Loudenslager, Staff Writer
Hello my name is Haydn. I am a junior who wears five watches for no reason at all. I spend most of my time at home playing video games, listening to music...