'Be Golden' Staff Member of the Week: Billie Tate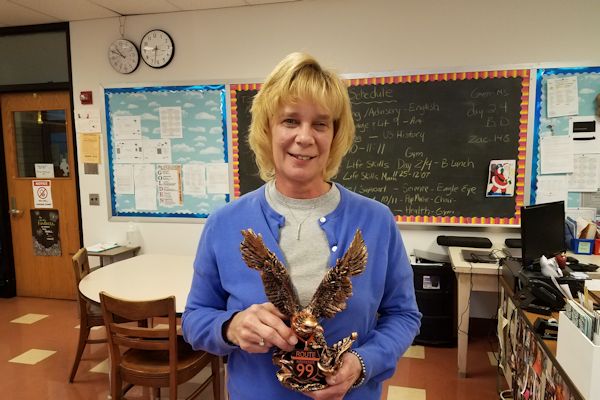 The "Be Golden" award is a new faculty and staff recognition program at the high school.
This award is given weekly by a faculty/staff member to another faculty/staff member. Whoever receives the trophy on Friday is responsible for awarding it to someone else the following week. The only criteria are to give it to someone who has done something to make the school a better place.
"With the Positive Behavior Interventions and Supports (PBIS) initiative in our school, we want to not only recognize students for being golden but staff members as well," said Shannon Davis, the award program coordinator. "This is a way to personally thank people we work with every day, but don't always have the chance to show them how much they are appreciated."    
Last week the award went to Mrs. Shannon Davis.
She chose to give the award to afternoon middle and high school custodian Ms. Billie Tate.
Mrs. Davis's Quote:
"Billie Tate is the next recipient of the Be GOLDEN award.  Billie is a part of our amazing custodial staff who works behind the scenes many times after students and teachers have left the building.  Billie is always seen with a smile on her face and willing to help staff when anything is needed!  Billie not only works hard during the week, but can be found working late hours during recitals, school dances, and during school athletic games on the weekends.  It is evident that Billie does her job well, she goes out of her way to make sure places are 100% clean for events, and makes our school shine!  Billie, we appreciate all of your hard work and dedication to making Tyrone GOLDEN!  You always know how to put a smile on our faces after a long day!  Thank you for everything you do!"
The Eagle Eye interviewed Billie Tate about being this week's award winner:
Eagle Eye: What do enjoy most about Tyrone?
Billie Tate: "This is a friendly atmosphere to work in.  I love the teachers and staff in my hallway.  They make it enjoyable to come to work."
EE: What do you do in your free time?
BT: "During the summer, I love working in the garden.  I love spending time with family and friends."
EE: How has Tyrone and the atmosphere impacted your life?
BT: "I know my coworkers are always there for any help or support that I might need."
View Comments (1)
About the Contributor
Ava McCracken, Staff Writer
Hi! My name is Ava McCracken. I am a senior this year and this is my third year in Eagle Eye. I'm number two on the tennis team, so I plan on writing...