Bauer Gets 500 Kills
Senior Makenna Bauer hit a major milestone in her volleyball career this season, reaching 500 career kills.
She is only the second player in Tyrone history to reach the 500 kill mark.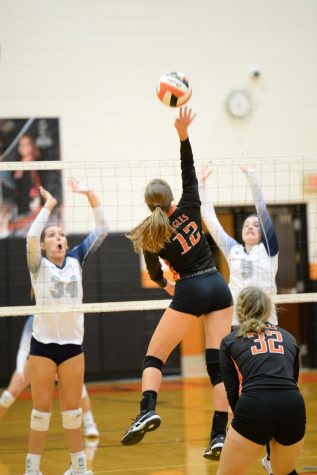 "Hitting 500 kills has been my goal ever since Kylee [Gooding] did it two years ago," said Bauer, "I'm proud of myself, but also proud of my team for helping me reach such a big goal. I will forever be grateful for every one of my teammates and coaches that have made me better and pushed me to my limits."
Bauer hit this milestone on the last point of the second set against Philipsburg-Osceola on October 8.
"As soon as I hit it every hour I've spent in the gym, every tough practice that I've made it through seemed to have paid off," Bauer said.
Tyrone Head Coach Mike Kraft was pleased to see Bauer reach this personal goal, and he is thankful for the standard that she set for the team over the past few seasons.
"Makenna's been one of the most committed players I've ever coached. She strives to improve on a daily basis. She will be the model moving forward when we talk about being a 'gamer' or performing in the clutch," said Kraft. "The last two years Makenna has played with an edge I hope becomes the model for Tyrone."
Bauer was named a first-team District VI and All-State selection for the last two years. She has also been a leader on the Horseshoe AAU Volleyball Club Team that qualified for AAU Nationals in 2019.
Bauer started playing volleyball in fifth grade when she saw teachers handing out flyers for clinics.
She will attend Penn State Altoona in the fall where she also hopes to play volleyball.
Fellow senior Courtney Williams, who has played with Bauer the last five years in both varsity and club volleyball, had nothing but praise for her friend and teammate.
"I'm so proud of MJ. She's worked so hard for this goal. She is a role model to everyone and an amazing teammate," said Williams.
Leave a Comment