Athlete of the Week: Reagan Irons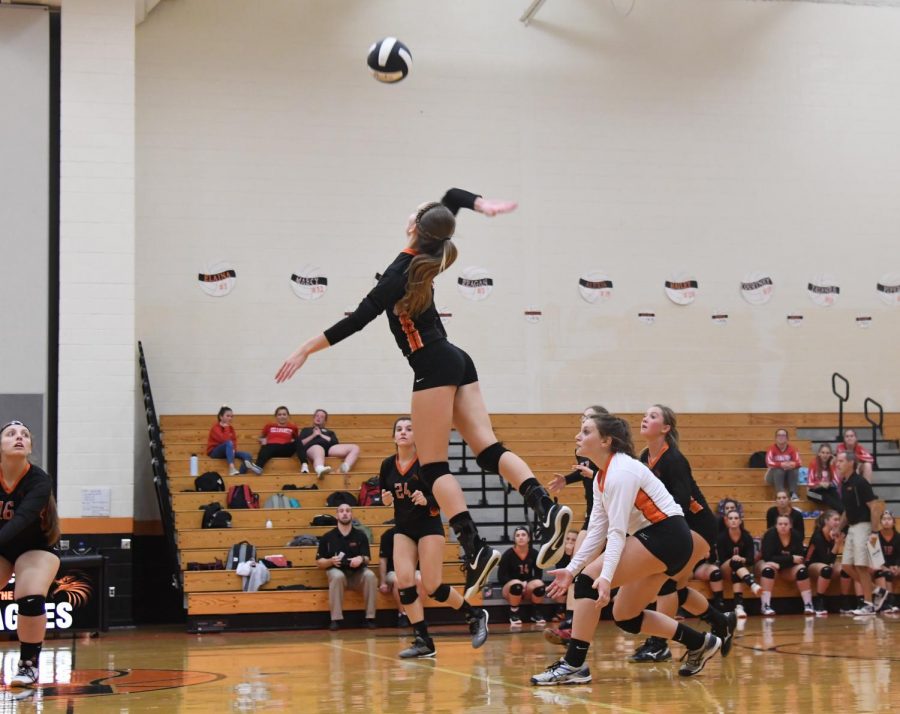 Name: Reagan Irons
Sport: Volleyball
Grade: 9
Accomplishments:
Freshman Reagan Irons has stepped up as a big contributor to the volleyball team and their 11-4 record so far. Irons had 10 kills with 9 service points against Bellefonte and also had 9 kills and 5 digs against Bald Eagle.
Coach Kraft's Quote:
"Reagan is a level-headed kid that doesn't get rattled. She is the same player when there is pressure and when there isn't pressure."
---
Eagle Eye: How did you first get involved in this sport?
Reagan Irons: "My dad told me about clinics so I tried it out and stuck with it."
EE: What other sports do you play?
RI: "Track and Field"
EE: Favorite professional sports team?
RI: "Penn State Volleyball"
EE: Favorite professional athlete?
RI: "Jonni Parker"
EE: Who is your hero? Why?
RI: "Elanor because she gets me through everything and she's just an unreal person."
EE: Favorite band/musician?
RI: "It changes all the time."
EE:  Favorite movie?
RI: "Miracle Season"
EE: Favorite food?
RI: "Cheesy hash browns."
EE: What advice would you give younger athletes?
RI: "Focus on technique, stick with it, and you will see results."
EE: What are your future goals?
RI: "Play college volleyball."
About the Contributor
Kevin Lehner, Staff Videographer
Hello my name is Kevin Lehner. I am a senior at Tyrone. I will be writing the Athlete of Week articles and I will be helping out with sports highlight...