Athlete of the Week: Lindsay Fusco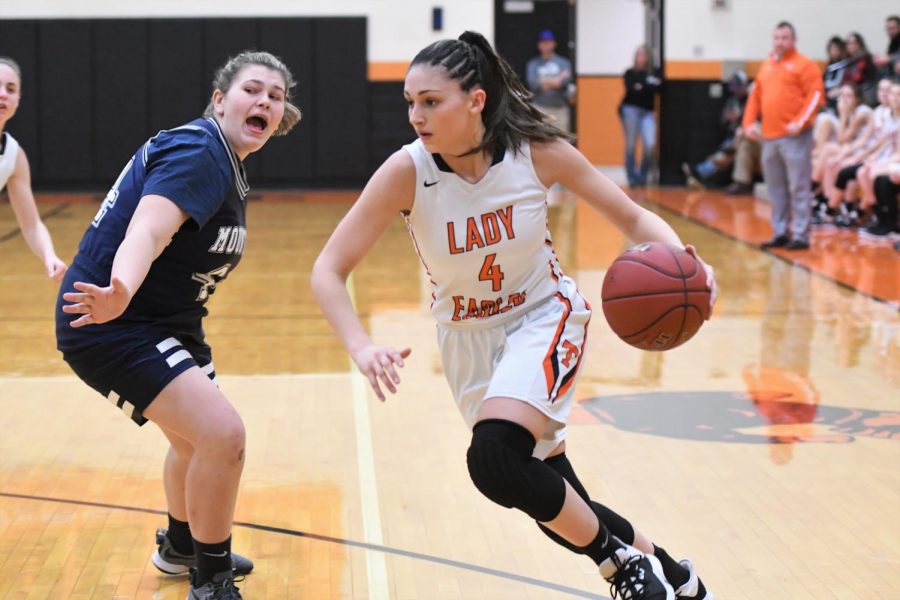 Name: Lindsay Fusco
Sport: Basketball
Grade: 12
Accomplishments:
Lindsay continues to lead our team in rebounding and is always assigned the other team's top inside threat. She is the only senior on the team and is a big leader for the squad.
Coach Rhoades's Quote:
"Lindsay is the perfect team player.  She does whatever she needs to do to make the team successful."
---
Eagle Eye: How did you first get involved in this sport?
Lindsay Fusco: "My parents signed me up at the rec center in 4th grade."
EE: What other sports do you play?
LF: "None"
EE: Favorite professional sports team?
LF: "Golden State Warriors"
EE: Favorite professional athlete?
LF: "Kobe Bryant"
EE: Who is your hero? Why?
LF: "My parents because they support me in everything I do"
EE: Favorite band /musician?
LF: "Billie Eilish"
EE: Favorite movie/show?
LF: "You"
EE: Favorite food?
LF: "Mac n Cheese and Hot Cheetos"
EE: What advice would you give younger athletes?
LF: "Work hard to get where you want and cherish every minute of it."
EE: What are your future goals?
LF: "For basketball this year, I want to win the Mountain League, win districts, and make a run for states. I am going to attend Penn State majoring in cyber security."
About the Writer
Kevin Lehner, Staff Videographer
Hello my name is Kevin Lehner. I am a senior at Tyrone. I will be writing the Athlete of Week articles and I will be helping out with sports highlight...