Athlete of the Week: Jaida Parker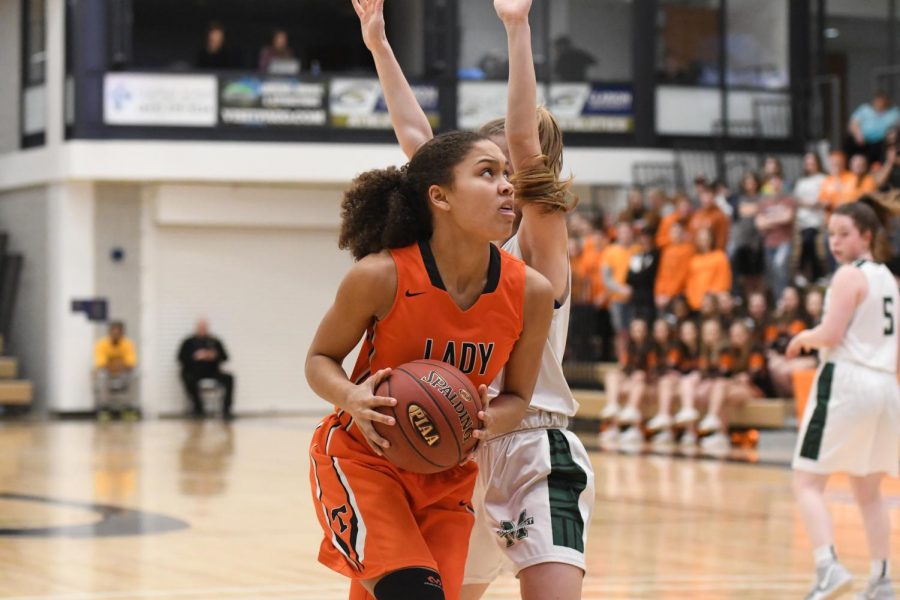 Name: Jaida Parker
Sport: Basketball
Grade: 10
Accomplishments: 
Jaida Parker scored 10 points vs. Avonworth to clinch their first playoff win in 22 years. Jaida also scored 23 points against Mercyhurst Prep to punch their ticket to the elite eight.
Coach Rhodes's Quote:
"Jaida really stepped up offensively and rebounding the two state play off games.  I was a little worried before the Mercyhurst game because she was a little under the weather but you couldn't tell by the effort she gave."
---
Eagle Eye: How did you first get involved in this sport?
Jaida Parker: "I played in a rec league in kindergarten."
EE: What other sports do you play?
JP: "None"
EE: Favorite professional sports team?
JP: "Los Angeles Lakers"
EE: Favorite professional athlete?
JP: "Kobe Byrant"
EE: Who is your hero? Why?
JP: "My mom because she inspires me everyday to do my best. She has such dedication in everything she does."
EE: Favorite band /musician?
JP: "Beyoncé"
EE: Favorite movie/show?
JP: "I really don't have a favorite but I enjoy comedies and thrillers."
EE: Favorite food?
JP: "Grilled Chicken"
EE: What advice would you give younger athletes?
JP: "Have confidence in yourself and play every game like it could be your last."
EE: What are your future goals?
JP: "To become a physical therapist and excel in college basketball."
About the Writer
Kevin Lehner, Staff Videographer
Hello my name is Kevin Lehner. I am a senior at Tyrone. I will be writing the Athlete of Week articles and I will be helping out with sports highlight...