Athlete of the Week: Grace LeGars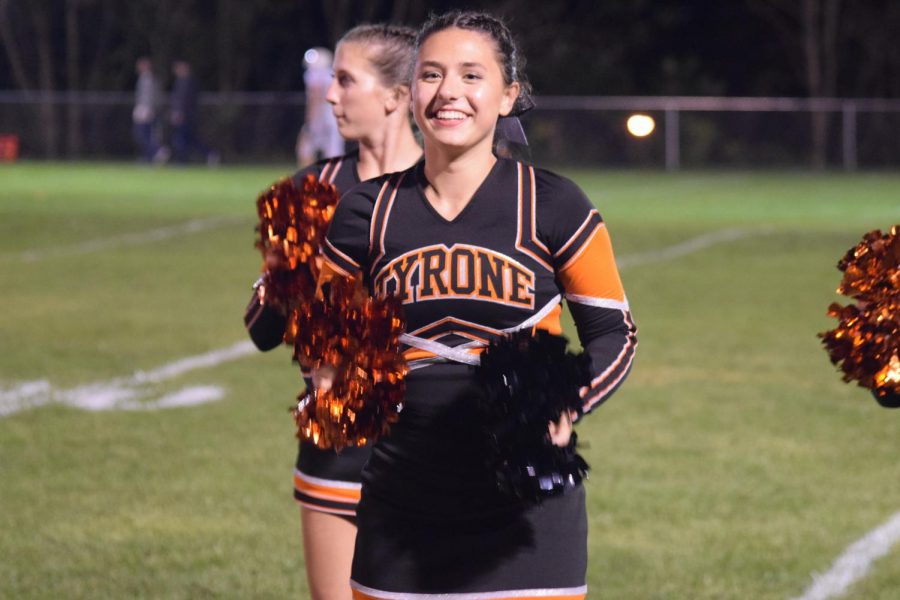 Name: Grace LeGars
Sport: Cheerleading
Grade: 12
Accomplishments:
Grace was a great leader for the cheerleading squad this year by showing great enthusiasm at practices and games. Her positive attitude and optimism really made the team better and helped the team meet their goals for the season.
Coach Anderson's Quote:
"Grace is an amazing leader for our squad and a great role model to others.  Her encouragement and positive attitude have kept the team focused on meeting overall goals during practices and games. She is always willing to try challenging stunts or work on strength exercises that benefit herself as well as the team."
---
Eagle Eye: How did you first get involved in this sport?
Grace Legars: "I started in youth when my mom signed me up after my friend convinced me to do it with her."
EE: What other sports do you play?
GL: "None"
EE: Favorite professional sports team?
GL: "Pittsburgh Penguins"
EE: Favorite professional athlete?
GL: "Simone Biles"
EE: Who is your hero? Why?
GL: "My mom. She always knows what to say when times are tough and always supports me."
EE: Favorite band/musician?
GL: "Scotty McCreary"
EE:  Favorite movie?
GL: "The Kingsman Series"
EE: Favorite food?
GL: "Bacon Cheeseburger"
EE: What advice would you give younger athletes?
GL: "Practice like you perform. Always give 110% because it will only help you in the future."
EE: What are your future goals?
GL: "Attend college for a degree in engineering/ environmental science."
About the Contributors
Kevin Lehner, Staff Videographer
Hello my name is Kevin Lehner. I am a senior at Tyrone. I will be writing the Athlete of Week articles and I will be helping out with sports highlight...