Athlete of the Week: Emma Getz
Name: Emma Getz
Sport: PowderPuff
Grade: 11
Accomplishments: Getz was a star on both sides of the ball in the juniors rout of the seniors. She scored on a receiving TD and an interception returned for a touchdown. 
---
Eagle Eye: Why did you do Powderpuff?
Emma Getz: I've grown up watching football so I always liked it and I wanted to show up my brothers. Also, my coaches forced me to play.
EE: What other sports do you play?
EG: Basketball
EE: Favorite professional sports team?
EG: Philadelphia Eagles
EE: Favorite professional athlete?
EG: Kobe Bryant
EE: Who was your favorite coach? Why?
EG: Keegan Gwinn, he always made practices "fun" and interesting. Also, he believed in us when nobody else did.
EE: Favorite band /musician?
EG: Flight 19 (AKA my Dad's band)
EE: Favorite movie/show?
EG: Anything scary
EE: Favorite food?
EG: Chipotle
EE: What advice would you give younger athletes?
EG: Play Powderpuff. It is a lot of fun and you only experience it twice. Also, pick good coaches.
EE: What are your future goals?
EG: Win Powderpuff back to back years.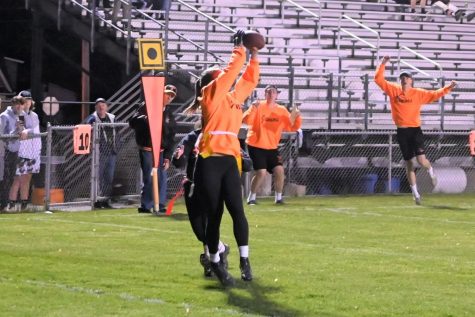 Leave a Comment
About the Contributor
Eric Sims
Eric Sims is a sophomore at Tyrone High School and this is his first year in Eagle Eye. He wears number 10 on the boy's varsity soccer team for Tyrone...