Athlete of the Week: Ella Pearson
We will be nominating a athlete for AOTW every week.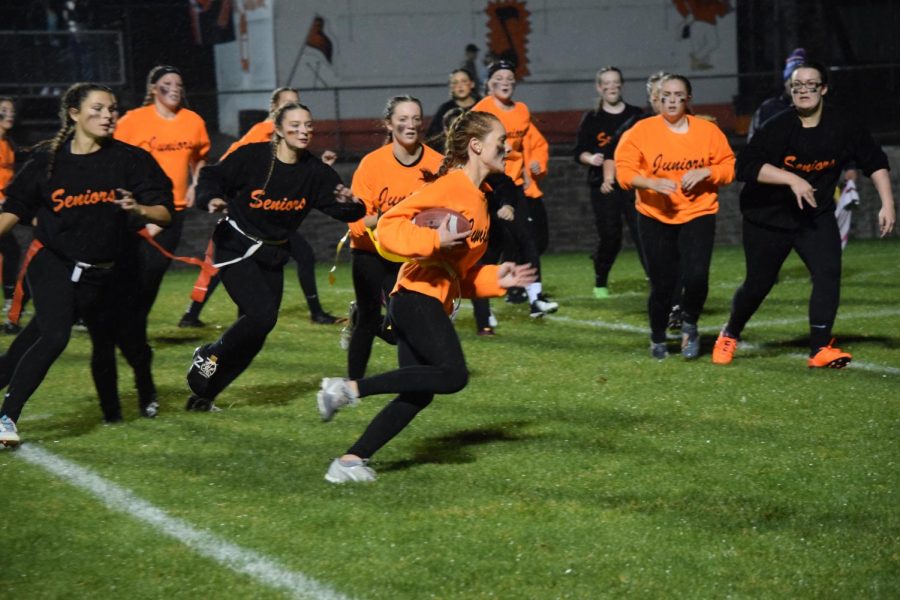 Name: Ella Pearson
Sport: Powderpuff
Grade: 11
Accomplishments: 
Ella carried the Juniors to victory over the Seniors in the annual powderpuff game rushing for over 100 yards and scoring three touchdowns.
---
Eagle Eye: How did you first get involved in this sport?
Ella Pearson: "I have been training with professionals my whole life."
EE: What other sports do you play?
EP: "Softball and Cross Country"
EE: Favorite professional sports team?
EP: "Tyrone Golden Eagles Football Team"
EE: Favorite professional athlete?
EP: "I can't choose between Dwayne Johnson and The Rock."
EE: Who is your hero? Why?
EP: "Nick Lewis, our head coach, always pushes me to be the best football player I can be. We started training when I was 7."
EE: Favorite band/musician?
EP: "Bruno Mars"
EE:  Favorite movie?
EP: "High School Musical 1 & 2. NOT 3″
EE: Favorite food?
EP: "Potatoes"
EE: What advice would you give younger athletes?
EP: "It's never too early to start training for one 40 minute game."
EE: What are your future goals?
EP: "Go pro."
About the Contributor
Kevin Lehner, Staff Videographer
Hello my name is Kevin Lehner. I am a senior at Tyrone. I will be writing the Athlete of Week articles and I will be helping out with sports highlight...