Ask the Coach with Head Coach John Franco: Week 8
Question: How does it feel playing in a district championship again?
Coach John Franco: "I am really happy that our team has the opportunity to experience playing in a district championship game. It is an excellent event, and the only thing better than that is to win a district championship. We're all excited, and I'm excited to be back in the finals, but now we have to play like we belong there."
Q: How does it feel playing Central again after the last-second loss last year?
CF: "You know what, it's one of those things where you play such a close game, but come out on the wrong end of it, you can't wait to get back on the field to compete. That's the way I feel and that's the way I think everyone on the team feels."
Q: What makes the rivalry with Central so competitive?
CF: "I think they have a history of being good, and we have a history of being good. I do know that we have more district championships though. Lately, though they have been one of the better teams in District 6. Overall they have lots of good athletes, and they're very similar to us at Tyrone. We have the same type of tough kids, we have kids that are competitors as do they. I think that it is the fact that it is the last year of their attendance in the league it makes it even more special."
Q: What are some things that you can improve on from the Penn Cambria game?
CF: "I think we need to make sure to work on the little things, like jumping off-sides. I mean we only jumped 2 or 3 times, but that's way too much for me. We've also got to take care of the ball, I mean we had three turnovers, and that's unheard of in our system so we've got to improve our discipline. I think that our inside running game could be a little bit better also. I thought our deep passing game was really good, but our intermediate passing game could use some work without a doubt. Every part of our game has to get better because they are going to be the best team we play all year."
Q: What do you expect to see from Central?
CF: "I think that they're a really quick team. I think their linemen are quick and that's what makes them a good team. They have the best quarterback we've seen all year other than our own, and that makes them difficult to defend because the main strength of their offense is the quarterback's ability to extend plays. When you extend plays at any level it allows the offense to make a big play. Their entire season has revolved around their quarterback making plays and their offense making big plays so that's what we've been working on in practice to stop, but there's no way of really knowing until the game itself so we'll see. "
Q: How do the skill players match up?
CF: "I think our skill players match up well. I think our quarterbacks match up well, our receivers match up well. These guys have competed against each other in basketball and baseball and track over the years so they know all of the kids over at Central. So that makes things a pretty even matchup. The difference in the game is going to be who plays harder. I know it sounds like a cliche, but the team that has the most players that play each play as hard as they can play it."
Q: How do the lines match up?
CF "The lines are also pretty similar. Size-wise, we're about the same. Quickness wise we're about the same there. We run a very similar offense and defense. I think it's a pretty even match-up even though a lot of people aren't even giving us a chance. I don't think they know what they're talking about. I think our guys are going to come out and show people why we're there. We were rated the 6th team in an 8 team conference before the season began and we tied for the conference championship, and now we're in the District 6 finals which nobody expected so I don't think that anybody gave us a chance to be here, and I think our kids have earned the right to be here. We beat everybody on our schedule and we have just as much right to be here as they do so we'll have to see what happens on Saturday."
Q: What has been your favorite part of the season so far?
CF "My favorite part so far is winning each week. Well, I should say finding ways to win each week. We have not been a dominating team, we're a very scrappy team and we find ways to win. We have players that make big plays at crunch time and find ways to win the game. We have done that every game. The best part of the season for me has been each week seeing how we're going to figure it out that week. So far, so good."
View Comments (2)
About the Contributor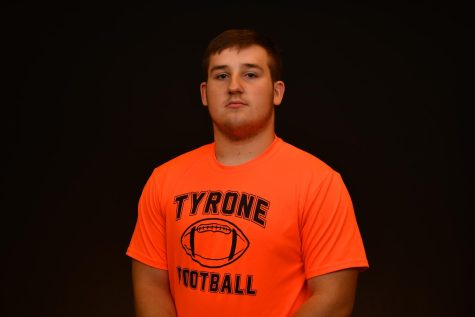 Dylon Brower, Staff Writer
Dylon Brower is a senior in his third year of Eagle Eye who enjoys giving an inside view into the locker rooms of the sports he plays. Dylon is someone...