Aaron Hernandez: A Tragic End to a Troubled Life
A timeline of the talented but troubled former NE Patriots star.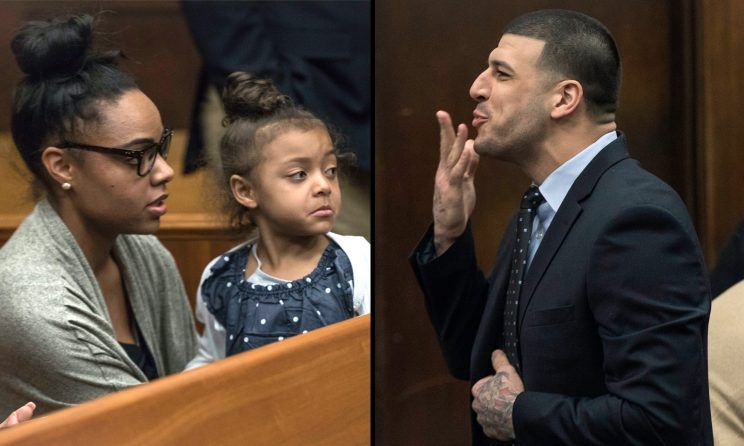 Former NFL star Aaron Hernandez, who was serving a life sentence for a murder conviction and just days ago was acquitted of a double murder, died after hanging himself in his prison cell early Wednesday, Massachusetts prisons officials said.
Hernandez, 27, was found by guards in his cell at the Souza-Baranowski Correctional Center in Shirley just after 3 a.m. He was then pronounced dead at UMass Memorial-Health-alliance Hospital in Leominster just about an hour later.
In 2009, Aaron Hernandez became the first Florida Gator to win the John Mackey Award, this award is given out every year to the top collegiate tight end.
January 2010 was the month Hernandez had announced his decision to skip he senior year at Florida and enter the draft. He was then drafted in the fourth round of the NFL draft by the New England Patriots on April 24th. Just three days after he had made a statement admitting to one failed drug test while playing for Florida after some allegations of multiple failed drug test.
In his first three years pro, Hernandez had 175 receptions on 261 targets and averaged 11.2 yards per reception having 18 touchdowns. August 27, 2012, Hernandez was making bank with a new 5 year contract worth up to $40 million. That didn't matter anyway. The following year on June 17, 2013, Hernandez was was seen with Odin Lloyd and two others at 2:30 am. On the same day, a jogger found a body riddled with gunshots wounds at a park in North Attleboro, Massachusetts. On June 18th, police search Hernandez's home in connection to the body found at the park he was identified as Odin Lloyd. He was searched a second time on June 22nd.
June 26, 2013: Aaron Hernandez was arrested and charged with first-degree murder for Lloyd's death. He was also charged on five weapon related charges. He plead not guilty and was held without bail. He was the released by the New England Patriots less than two hours after his arrest.
November 27, 2013: Hernandez's attorney files an answer to a complaint in federal court in Miami filed by Alexander Bradley, stating that Hernandez was invoking his Fifth Amendment rights. Bradley claims Hernandez shot him in the face after an argument in a Miami strip club. On December 16, Odin Lloyd's family filed a wrongful death lawsuit against Hernandez.
January 16, 2014: unsealed court documents reveal that prosecutors  suggested that Hernandez may have pulled the trigger in an unsolved Boston double homicide in July 2012. Victims Daniel de Abreu and Safiro Furtado were killed when shots were fired into their 2003 BMW. Another passenger was wounded and the two others were uninjured. January 30, the Bristol County District Attorney's Office alleges Hernandez used "coded messages" in jailhouse calls to discuss allegations that he killed Odin Lloyd. Prosecutors request for the recordings of jailhouse and records of Hernandez's visitors since his arrest. On February 7, the judge denied the prosecution's request for the recordings of Hernandez's jailhouse calls.
February 26, 2014: The families of Daniel de Abreu and Safiro Furtado, the two men gunned down in Boston, file a wrongful death lawsuit against Hernandez; each family is seeking six million dollars.
May 1, 2014:  Hernandez indicted on charges of assault and battery and threatening to do bodily harm, in connection to the February 25 jailhouse fight. He was also indicted for threats to do bodily harm in connection with a November incident in which he allegedly threatened someone who worked at the jail. May 15,  Hernandez is indicted for the July 2012 murders of de Abreu and Furtado and charged with two counts of first-degree murder, three counts of armed assault with attempt to murder and and one count of assault and battery by means of a dangerous weapon.
July 7, 2104: A defense request to have Hernandez moved to a jail closer to Boston is granted. His lawyers argue that the trip from their offices to the Bristol House of Corrections could take up to two hours due to traffic.
April 15, 2015: Hernandez is found guilty of first-degree murder in the death of Odin Lloyd, and is sentenced to life in prison without the possibility of parole. He is also convicted of unlawful possession of a firearm and unlawful possession of ammunition, and his sentences are two and a half years to three years, and six months to three years, respectively.
April 14, 2017: Hernandez was not found guilty of murder in the deaths of Safiro Furtado and Daniel de Abreu outside a nightclub in July 2012. Of the eight counts he faced, he is found guilty of just one: illegal possession of a firearm.
Even though he was found not guilty of the double homicide, he was still charged with first degree murder for killing Odin L. Lloyd. He was sentenced to life in jail with no parole.
April 19, 2017: Aaron Hernandez was found dead in his jail cell hanging from a bed sheet.
About the Contributor
Matt Davis, Staff Writer
Junior Matt Davis is in his first year of Eagle Eye. When he's not playing football,  Matt enjoys not lifting, not running, and not taking pictures in...