A Senior Reflects on Her Lost Season
In just three seasons, senior Cate Baran became the career strikeout leader in Tyrone history. She will attend Juniata College in the fall.
Since seventh grade I've had one goal for myself and the Tyrone softball program: to be part of the first team in Tyrone softball history to win a district championship.
In eighth grade we worked hard, practicing long hours in the snow and the heat, and finished the season with a respectable 9-9 record. Our class wanted to bring the softball program back and we knew it could start with us.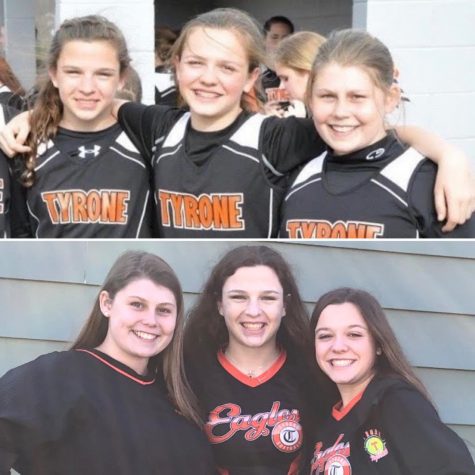 My first year of varsity in 2017 was frustrating. It seemed like we didn't improve much. We only won two games, but we had a young team. We had made some improvements, only losing by one run to Bellefonte, Bellwood, Penns Valley, and Bald Eagle.
In our sophomore season, we improved 8-13 and made the playoffs for the first time in over 15 years. We almost pulled off a major upset in the first round of the playoffs, losing a heartbreaker in the bottom of the seventh inning against Philipsburg, who would go on to become state champions.
Last year, our team finally earned a regular season winning record (14-8) and we got our first playoff win in over 15 years against Cambria Heights. We went on to play in the District Championships against Bellefonte but lost a close game 2-0.
After that game, our team made a promise to work hard during the off-season and become District Champs in 2020. We didn't take a break. We played all summer together and worked out all winter in the gym.
To lose our season like this is heartbreaking It feels like we are not finished. This was our year to put Tyrone softball on the map.
I will miss being with my teammates for the last time. I always thought my senior year would be the best year. I would get to accomplish all of my goals, but I didn't get the chance to.
Ally and Callie, thank you for being an amazing teammates. I know both of you will do amazing things at Chatham and Penn State Altoona. They are lucky to have you guys. We have all played together since junior high and I wish we had one more chance to play together. I will miss playing with you both so much.
"
Since seventh grade I've had one goal for myself and the Tyrone softball program: to be part of the first team in Tyrone softball history to win a district championship."
— Cate Baran
As difficult as it is, I've decided to not be upset because I know that everyone just wants the best for the student-athletes. I'm looking forward to hopefully playing with my travel team over the summer, but I'm going to miss putting on the Tyrone uniform for the last time.
I would like to thank all of my coaches for all of the time and energy they put into the program. I do not think we could have got to where we were without them.
I want to also thank my teammates for always being there. I knew that if I ever needed something I could ask them. I wish we would have gotten one more season together.
Lastly, I want to thank my family for coming to all of my games, and driving me everywhere for practices, games, and tournaments. I could not have done this without any of you.
The 2020 seniors will leave an unfinished goal and I hope that one day soon Tyrone softball will finish the job and win the district title.
Leave a Comment
About the Contributor
Cate Baran, Editor in Chief
Hi! My name is Cate Baran.  I'm a senior at Tyrone High. This is my third year of Eagle Eye. I play three sports: softball, swimming, and soccer. Outside...