Christine homers in tough loss against Philipsburg
The Lady Eagles battled one of the top teams in the state on Monday
With a wild start to the  fourth game of the season and a first varsity career home run for junior Finnley Christine, the Lady Eagles still fell to the Lady Mounties, 11-4.
"We played very competitively," said head coach Peter Baran, "We had eight hits to their nine with only nine players to begin and finish the game, and Finnley had her first varsity career homer. Both Shannon and Anna pitched a phenomenal game."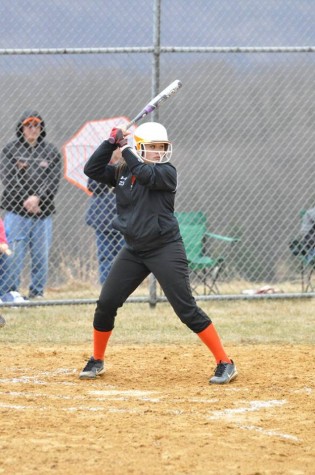 The Lady Mounties are the reigning district champions and made it to the final four of the state championship last season.
In the top of the first, the Lady Eagles loaded the bases when senior Shannon Gearhart, junior Finnley Christine, and sophomore Madi Grazier walked. With Gearhart, Christine, and Grazier on base, freshman Emily Hamer grounded home Gearhart and sophomore Allison Hosko then singled in Christine to make it 2-0 Tyrone.
The Lady Mounties answered back in the bottom of the first with a double from senior MacKenzie Burge, and singles from junior Hayley Hayward and senior Abby Showers, tying the score at two.
"The Lady Mounties are an incredible team," said junior, 2nd basemen and pitcher, Anna Baran, "To go seven innings against one of the best teams in the state is a great accomplishment, and I hope we can finally get our first win of the season very soon."
The Lady Eagles were able to score another run in the third inning.  Baran singled and stole second to put herself in scoring position.  Finnley Christine then drove her home with a single.
Philipsburg  scored three more runs in the bottom the third to make the score 6-3.
In the top of the fifth inning, Christine belted a pitch from junior Chelsea Henry over the right field fence to give the Eagles another run.  It was Christine's first career homer.
"We need to learn how to win, which will come with experience. I am extremely proud of all of these girls," said coach Baran.
The Lady Mounties were able to score five more runs to make the score 11-4.
The Lady Eagles will be back in action Friday, April 10th, vs. the Bald Eagle Lady Eagles, away at 4:30.
SCORE BY INNINGS
Tyrone: 2 0 1 0 1 0 0 – 4 8 0
Philipsburg-Osceola: 2 0 3 4 2 0 X -11 13 0
2B-K. Burge (PO).
HR-Christine (T).
Multiple hits-Christine 2 (T); Hayward 4, H. Thompson 2, Showers 2 (PO).
RBI-Christine, Hamer, Hesko (T); Hayward 6, K. Burge, Showers 2, Henry, Frank (PO). WP-M. Thompson. LP-Gearhart.
SO-Gearhart 1; Baran 4 (T); Henry 3, M. Thompson 4 (PO).
BB-Gearhart 5; Baran 2 (T); Henry 3 (PO).
Records: Philipsburg-Osceola (2-1). Tyrone (0-4).
Leave a Comment
About the Contributor
Anna Baran, Sports Editor
Hi! My name is Anna and I am in 12th grade. My favorite things to do are play softball and soccer. Sports are my passion. I enjoy playing all sports, whether...