2015 TAHS Band Home Show a big success
Seven marching bands played for an enthusiastic audience on Saturday, October 10 at Gray Field during Tyrone's annual "Music In The Valley" home show and competition.
According to Tyrone Marching Band Director David Hock, the show was a great success.
"
We had a very large crowd and quite a lot of band alumni who came to participate."
— Band Director David Hock
"We had a very large crowd and quite a lot of band alumni who came to participate," said Hock,  "Also, our profits were higher than in year's past, all of which benefit the band boosters and the marching band for this season and future seasons."
Five of the eight bands that played were in competition, while two other bands, the host band Tyrone and DuBois High School as well as special guests the St. Francis University Marching Band played in exhibition.
Exhibition means that the bands receive a score for the Tournament Of Bands rankings but the score does not count in the rankings.
"I was very happy with our band's performance," said Hock, "It was the first time that we performed our closing number, so there's still much work to do to clean it up and make it better, but we are continue to grow and get better."
To Hock, the most important thing for his band is to grow and improve each and every time they perform.
"[Our goal is to] to keep growing and perform to our absolute best," said Hock.  "To perform not just the notes, but show emotion and draw emotion from the listeners. To set a standard for the future that we can follow, a standard higher than previous years. With each year that standard should continue to raise and we should continue to improve in every aspect of our performance."
Through the efforts of Hock and the TAHS Band Boosters, the crowd was also treated to a special guest performance by the St. Francis University Marching Band.
"My boosters and I got in touch with St. Francis's director and asked if they would be willing to play for our show. They were very willing to come and perform for us and we were lucky that it worked out with their schedule," said Hock.
Hock was excited for the crowd and his own band to get the opportunity to see the St. Francis University Marching Band perform.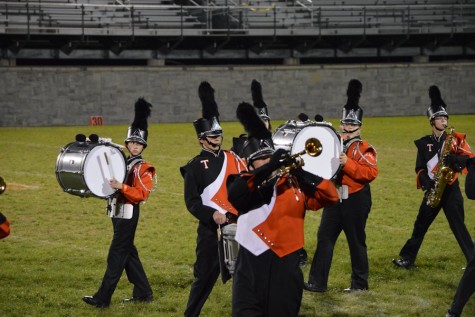 "It's important for any band or any musician to listen to people who are better than them," said Hock, "If we only hear ourselves, we can never grow past a certain point. The students need to be able to hear what a good band sounds and looks like so that they can gain a visual and auditory picture in their mind of what they should aim to sound and look like."
The Tyrone Golden Eagle Marching Band will travel to Juniata Valley High School for their next competition on Saturday, October 17.
The competition begins at 3:00 pm with Greater Johnstown High School. Tyrone performs at 5:30 pm. Tyrone will perform against Sheffield ,Brockway, Windber, and Conemaugh Township.
View Comments (2)
About the Contributors
Zack Webster, Editor in Chief
Hi, I'm Zackery Webster, Editor in Chief of the Eagle Eye News. I have been a part of the Eagle Eye Newspaper for four years. In that time my niche in...
Derek Wilson, Staff Writer
My name is Derek Wilson and I am a senior here at Tyrone High School and it is my third year as a member of the Eagle Eye Student Newspaper. I am a Staff...