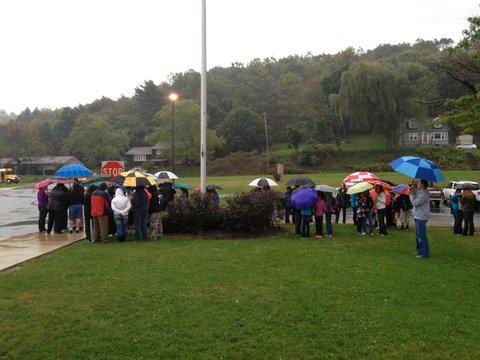 On Wednesday, September 26, 2012 at 7:15am the annual See You At The Pole (SYATP) event was held and students, staff, and adults banned together in prayer.
Despite the downpour, organizers concluded that SYATP was a huge success.
SYATP is a time that the Christians at schools and or workplaces pray for peers.
"I think SYATP is a great opportunity for the students, staff, and parents to come together in fellowship. I am delighted that the school district allows SYATP to take place on campus. I would like to see better publicity for this annual event in order to attract even more people in the coming years" Mr. Jim Kilmartin stated.
"Although the inclement weather may have played a part in the number of participants, I was impressed at the number of people of all ages, students and adults, that attended, and I look forward to attending with my children and other family members again in the future," Lori Weakland, elementary school secretary, stated.
The turnout for TASD is usually about twenty students and four to five adults. This year was much larger than usual. There was a total of at least 60 students and staff combined.
This year's theme was Awaken, and the verse was Ephesians 3:14–21—"For this cause I bow my knees unto the Father… I pray that out of his glorious riches he may strengthen you with power through his Spirit in your inner being so that Christ may dwell in your hearts…And I pray that you… grasp how wide and long and high and deep is the love of Christ, and…that you may be filled to the measure of all the fullness of God. Now to him who is able to do immeasurably more than all we ask or imagine…'"
Sadie Jackson, senior, and Seth Umholtz, junior, lead SYATP this year with the help of Jim Kilmartin, Joshua House director.
Jackson expressed, "I think this year was a really good turnout. I love the fact that more and more Christians are stepping out in their faith and standing up for what they believe in, even if it means standing alone. That despite that it was pouring down rain there were still so many people gathering in the one thing we can agree on, our faith."
"As a local youth group leader and parent, I thought that SYATP was a great experience! It was refreshing to see and hear so many youth proudly standing for something in which they believe. I am also thankful we are able to meet around the TAHS flag pole. This was my first time attending SYATP – and I'm already looking forward to next year!" Tracy Focht, secretary, stated.