TAHS Mock Election Mirrors Blair County Results
The Eagle Eye analyzed the results of the TAHS Mock Election and compared them to Blair County's official results.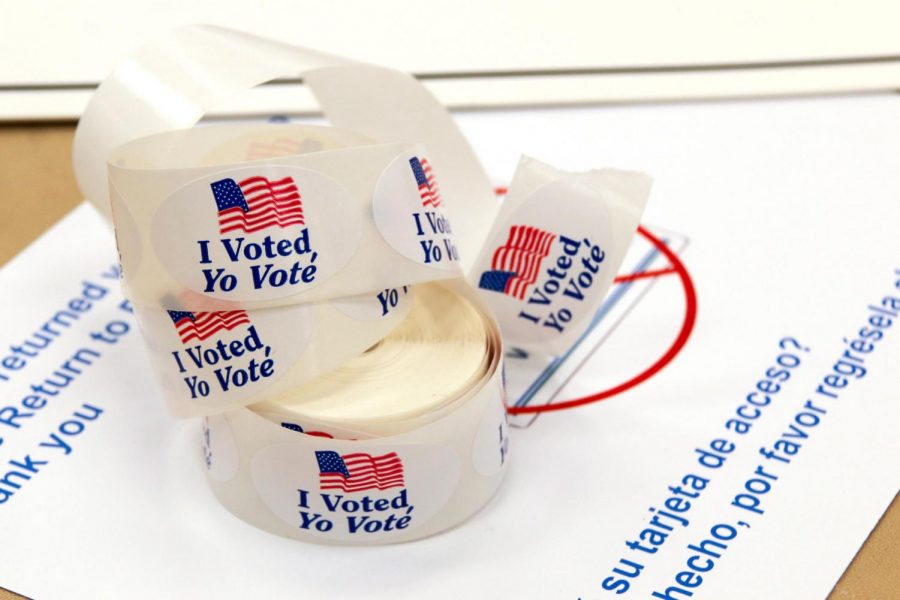 Students at Tyrone High School headed to the polls last Tuesday to cast a ballot for the next President of the United States.
Many of these students were not old enough to vote, but none of them were committing election fraud. They voted in the Eagle Eye mock election for TAHS students in grades 9-12.
"We have held a mock election for the students in each presidential election year since I've been teaching here, beginning with the 2000 election. It's always interesting to see how the student vote compares to the county, state, and national vote," said Tyrone civics teacher and Eagle Eye adviser Todd Cammarata.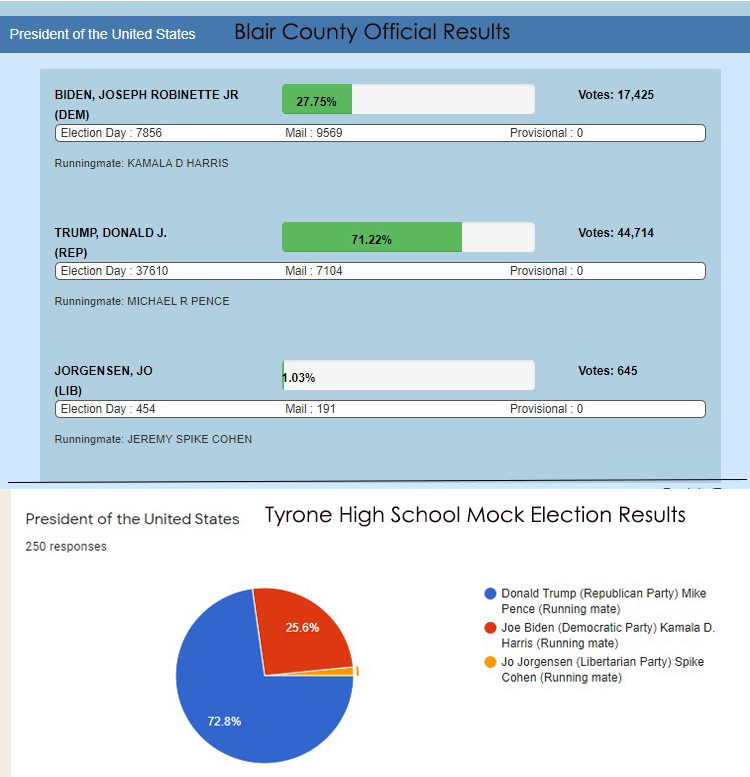 The vote was conducted via the Eagle Eye website and was limited to students with a current TASD email address.
The Tyrone area is predominantly Republican, so it was not surprising that President Trump won the school's popular vote by a wide margin.
Interestingly, the margin of victory for Trump in the TAHS mock election was almost identical to Trump's official margin in Blair County, where the vast majority of Tyrone students live.
Republican incumbent Donald Trump won the TAHS mock election with 182 votes (72.8%), Democratic challenger Joe Biden received 64 votes (25.6%), and Libertarian Party candidate Jo Jorgensen earned 4 votes (1.4%).
In the official county results, Blair County voters favored Trump with 44,714 votes (71.05%), Democratic candidate Joe Biden received 17,425 votes (27.6%), and the Libertarian candidate Jo Jorgenson received 645 votes (1.03%).
The official county vote tally and the TAHS student vote totals were within two percentage points for Biden, less than two percentage points for Trump, and less than one-half percentage point for Jorgensen.
Voter turnout and the youth vote
One slight difference between the actual election and the student vote is that voter turnout among the students was much lower than the county as a whole.
Voter turnout among all registered voters in the county was very high this year. Nearly 78% of all registered voters cast ballots in this election, based on unofficial totals posted by the county on Friday.
Turnout in Blair County this election year was almost 6% higher than turnout for the 2016 presidential election.
In 2016, Trump received 31,135 votes in Blair County (70.72%), Democratic candidate Hillary Clinton received 13,958 votes (25.22%) of the vote, with three third-party candidates sharing a combined 3.3% of the vote.
TAHS students "turned out" in much lower numbers than the county as a whole, at only 45%.
However, their rate of turnout was not far off the percentage of young voters nationally.
According to the Center for Information & Research on Civic Learning and Engagement (CIRCLE), a non-partisan research center on young people's civic engagement, 50%-52% of young people ages 18-29 voted in the 2020 presidential election, an increase of more than 10% from 2016.
The slightly lower voter turnout among students at Tyrone can at least in part be attributed to the fact that the student vote was not official. Moreover, many students have been absent or are doing online instruction due to COVID and therefore may not have been aware of the mock election.
Analyzing the numbers
The biggest difference between the vote margin in the TAHS election and the actual election was the percentage of the youth vote that President Trump won locally.
In Pennsylvania, where Joe Biden currently leads Donald Trump by over 54,000 votes, Biden received an estimated 154,000 more youth votes than Trump.
According to the New York Times, Biden beat Trump among young voters age 18-29 in Pennsylvania by a wide margin, 62%-35%.
However, there was no such youth advantage for Biden among Tyrone High School students or among actual voters aged 18-29 in Blair County, where the number of registered Republicans outnumbers registered Democrats about two to one.
Among voters age 18-29 in Blair County, there are 3,502 registered Republicans, but only 1,887 registered Democrats.
The much higher vote totals for President Trump in both the mock election and actual election suggest that geography and family probably influenced voters' preferences more than age.
"This is a rural area and the people here are mostly Christian and have aligning views," said Tyrone sophomore Kolten Miller, on why he believes that young people in this area tend to lean more Republican.
Exit polls showed that those who believe abortion should be illegal favored Trump by a margin of 76% to 23%.
It is clear that most parents have a big impact on student's lives, and that influence is probably reflected in the vote totals.
Young people often look up to their parents, which means, in most cases, they will follow their lead. Also, around this area religion has a big influence on many people. That means that students will get the influence of their leaders in their church or place of worship.
Local demographics favored Trump
Other demographics also favored Trump over Biden locally.
Exit polls conducted by the New York Times concluded that the majority of white voters favored Trump. Trump had 58% of white voters while Biden had 45%. Also, the majority of those who live in a rural area voted for Trump by a 15% margin over Biden.
Blair County is rural and 95.6% of the population is white, non-Hispanic.
Political ideology and party identification also favor Trump in Blair County.
Republicans outnumber Democrats approximately two to one in the county and Trump received 94% of the Republican vote, according to New York Times exit polls.
Those that describe themselves as conservatives also favored Trump by very wide margins nationally. According to New York Times exit polls, 85% of those that described themselves as conservatives voted for President Trump.
Small cities and rural areas also went to Trump by a 57% to 42% majority.
But in a close election like 2020, small shifts can have a big impact.  While more votes were cast for Donald Trump in Blair County this year than in 2016, even though he lost the county by a wide margin, Joe Biden's share of the Blair County vote was higher than Hillary Clinton's, helping the Democratic candidate to win the state.
Although throughout families, friend groups, and classes people have conflicting opinions it is important to remember to have respect for everyone and make sure to keep safe no matter the outcome of the election.