Life in "Bad Orb"
April 1, 2015
Stalag IX B was located in Bad Orb, Germany and held Serbian, Italian, French, and Russian P.O.W.s in late December of 1944, when 985 American soldiers, including Walk, captured during the first two days of the Battle of the Bulge were sent there.
Walk's family received word of where he was being held captive on March 1st, 1945.
"Report just received through the International Red Cross states that your son, Private First Class Hayden R. Walk is a prisoner of war of the German government," is the only information that the letter provided.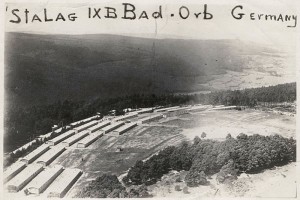 By the end of the war, the town's name,"Bad Orb", held a deeper meaning to US servicemen. In total the camp held around 4,700 American POWs, far more than it was ever equipped to handle. The food there was terrible and was rationed into insufficient amounts.
"Toward the end we were lucky to get a slice of very poor bread and for days and days, even weeks, we were 'favored' with grass soup, possibly you've never tasted grass soup! Well, I hope you never will be compelled to live on it," noted Walk in an interview with the Daily Herald immediately after his return home.
Over the course of his captivity, Walk lost approximately 40-50 pounds.
Rations in the camp consisted of 300 grams of bread, 550 grams of potatoes, 30 grams of horse meat, one-half liter of tea and one-half liter of soup, made from grass and putrid greens that was watered down.
However, near the end of the war the ration was cut even further, and POWs were only receiving 210 grams of bread and 290 grams of potatoes per day. Only one delivery of Red Cross food parcels ever reached camp, enough though in many POW's letters home, including Walk's, they were told to specifically ask for them.
In one letter written by Walk he said, "Dear Mom, I am well and hope this letter finds all of you the same. I don't want you to worry too much about me, as I'll get along okay. When you get the Red Cross Card send me all the packages you can. Tell everybody I said hello. -Hayden"
Even though Walk's Mother sent several packages, he and fellow soldiers never saw them, because the Germans would confiscate them.
Conditions in the camp were deplorable. 290 to 500 POWs were crowded into one-story barracks with made of either wood or tar paper. The barracks were divided two sections with a "washroom" in the middle. These washrooms were often just holes in the ground and a cold water tap, where prisoners could try to clean their hands. Each half of the barracks had a single stove with a ration of wood that would provide heat for only about an hour a day during the winter. Bunks, if the barracks had any, were triple-deckers put in groups of four. Several barracks had no bunks at all, leaving around 1,500 men sleeping on the floor. POWs who were lucky received one blanket, but when the camp was liberated some men had no blankets at all. All the barracks were in some state of disrepair, with broken windows, leaky roofs and substandard lighting.
During his internment, Walk worked in the kitchen. According to a story that he told his daughter Connie, once he was accused of taking food, even though he swore he hadn't. In almost any POW camp, if you were caught stealing food you were shot right away and the rule was even more strictly in enforced in Stalag IX B. A furious SS officer forced Walk to his knees, pointed a gun to his head and pulled the trigger. However, the gun jammed and his life was miraculously spared.
Near the end of the war men were dying frequently in the camp from diseases, abuse and starvation. One thing Walk was extremely ashamed of was how he and the other prisoners would treat the dead.  When he and his fellow prisoners saw someone dying, they would wait until he took his last breath and immediately took whatever he had on him. Food, clothing and boots, if he had boots, were all immediately taken by other prisoners. Things like shirts, pants, blankets or boots were extremely valuable considering that many only had dirty rags to wrap around their feet.  Men would do anything they could for them, even if it meant stealing from their dead comrades.