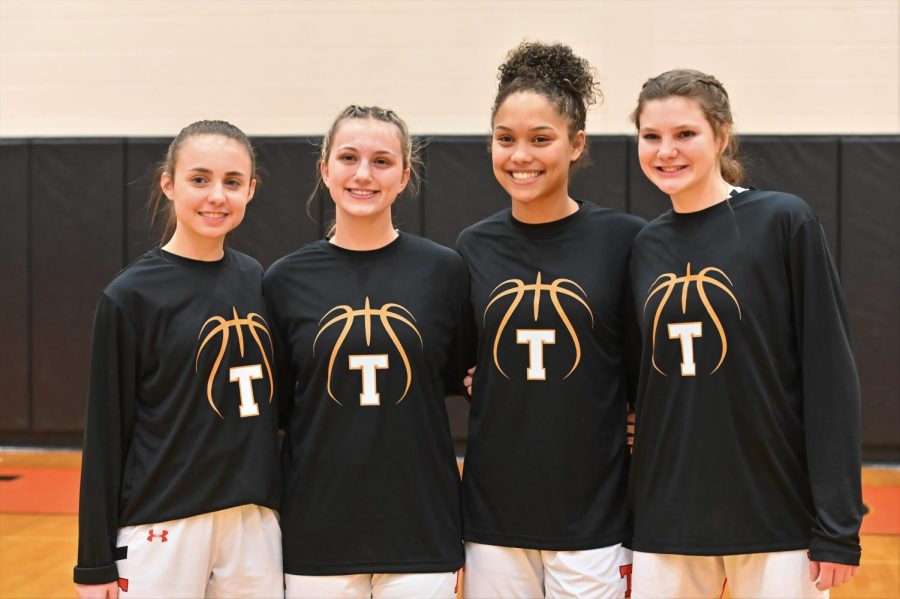 Girls Basketball to Graduate Four Outstanding Seniors
This year's class of seniors on the Tyrone Lady Eagles Basketball team may be the best group of seniors to ever play together on any Tyrone basketball team.
They have been consistent winners both on and off the court for four years.
These four teammates won three Mountain League Championships, qualified for states each of their four years, made it further in the state tournament than any other girls basketball team in school history, and won back-to-back District 6 Championships for the first time in Tyrone Basketball history – girls or boys.
In their senior season, they only lost two games, and one of them was avenged in the last game of the regular season to clinch a share of the Mountian League title.
This graduating class also produced two career 1,000 point scorers, Jaida Parker and Stephanie Ramsey. All four seniors, Emma Getz, Marissa Lewis, Jaida Parker, and Stephanie Ramsey are starters and all contributed heavily to the team's success over the past four years.
Off the court, all four seniors have been successful academically and are also highly involved in other extracurricular activities.
They will be greatly missed, but we are thankful for the culture of commitment and excellence that they will leave behind.
Because of their talent, work ethic, sportsmanship, leadership, friendship, commitment to each other and others, we know these girls will be successful in whatever they choose to do after high school.
Best of luck and thank you, seniors! You make us #TyroneProud! 🧡🖤🧡🖤
Find out more about each of these outstanding seniors by clicking each photo below: