'Be Golden' Teacher of the Week: Mr. Dan Plummer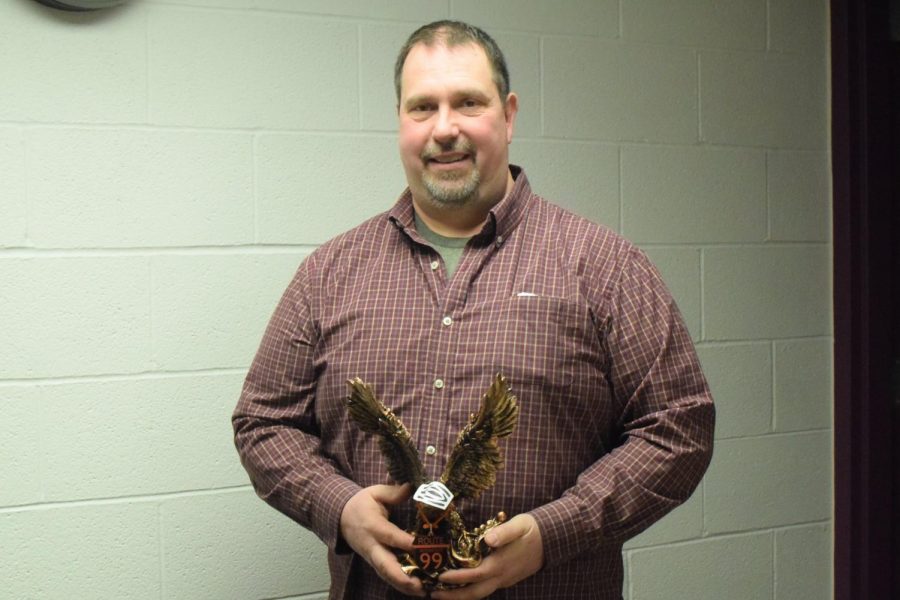 The "Be Golden" award is a new faculty and staff recognition program at the high school.
This award is given weekly by a faculty/staff member to another faculty/staff member. Whoever receives the trophy on Friday is responsible for awarding it to someone else the following week. The only criteria are to give it to someone who has done something to make the school a better place.
"With the Positive Behavior Interventions and Supports (PBIS) initiative in our school, we want to not only recognize students for being golden but staff members as well," said Shannon Davis, the award program coordinator. "This is a way to personally thank people we work with every day, but don't always have the chance to show them how much they are appreciated."
Last week the award went to Mr. Bob Wilson
He chose to give the award to Mr. Dan Plummer
Mr. Wilson's Quote:
Dan has been the carpentry instructor at TAHS for the past 20 years plus.  In addition to being a teacher of the carpentry shop, he has the responsibility of coordinating, planning, ordering parts and supplies, and transporting students to complete a house project with his students off campus.  He also complies with the academic requirements for scheduling of the students to complete our carpentry program. Dan was a football coach for most of his years at Tyrone.  He is also a Union Rep for the teacher's association and active as a Ski Club advisor.  He heads up a lot of fundraisers for the students to help with the cost of SKILLS USA and the Ski Club.  Skills helps fund field trips for carpentry students.  The Ski Club travels to Blue Knob several times a year, and this year, includes a weekend trip to Vermont.  In my opinion, Dan is long overdue for this recognition.
The Eagle Eye interviewed Mr. Gruber about being this week's award winner:
Eagle Eye: What encouraged you to become a teacher?
Dan Plummer: When I was in high school, I had a math teacher Mrs. Crawford. She was my math teacher several different times throughout the years. She always encouraged me and others to do their best. She would set goals/expectations and would help us achieve those goals. She always told me some day I would be teaching other students as well and passing on my knowledge and interests to them. 
EE: What do you enjoy most about being a teacher?
DP: I enjoy that each day and year are somewhat similar. However, each day is different, and has its own set of challenges . You need to be flexible and keep things interesting for your students. 
EE: Is this your dream job? If not, what is?
DP: I would say this one of my interest. I enjoy teaching and I'm grateful that I have had the opportunity to pass on my knowledge/interest of construction and woodworking to my students. However, I have always been fascinated in the weather. When the Weather Channel became available for me to view that really increased my interest. So, if I wasn't teaching, I would like to have a profession in meteorology. 
About the Contributor
Lindsey Walk, News Editor
Hello there! My name is Lindsey Walk and I am a senior this year at TAHS. This is my second year being involved in Eagle Eye and I am so excited to be...