Kiley Williams – US Army, 2011- 2016
Important life journeys often begin with a "leap of faith," but for US Army Airborne soldiers, it is much more than a metaphor.
Their first jump is something every Airborne soldier remembers. It takes only seconds but it can feel like a lifetime.
"
"We want to honor him and show respect for his service. We were proud of him. We do what we can to pay it forward to veterans."
— Glenda Hunter.
"This was it… I was going on my first airborne jump! Somehow, it did not feel real, like this was all part of a really vivid dream. We were packed in tight and the look and sweat on everyone's faces easily disclosed actual emotions. The plane leveled off and the crew chief opened the side door. The sudden rush of wind and noises seemed deafening and I could not really hear what he was saying. Honestly, I didn't need to hear him to already know what he was saying. I heard it almost non-stop for the past two weeks. Muscle memory took over, and I did what the training had taught me as I took the step out of the aircraft and into empty space."
Tyrone native Kiley Williams experienced that feeling, serving as an Airborne Infantry soldier from 2011 until his untimely death in 2016.
A 2011 graduate of Tyrone Area High School, Williams grandmother Glenda Hunter described her grandson as a bright, happy, caring, and energetic person whose life ended far too soon.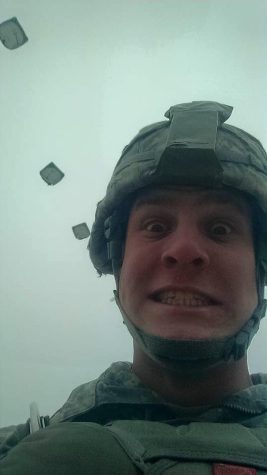 Like many teenagers, Williams was unsure of his post-secondary plans but began to consider the military when he was about 16 years old.
"Kiley didn't know he wanted to join the Army until the summer between 10th and 11th grade," said Hunter, "Before that, he mentioned going to school for welding, but that was short-lived."
Williams enlisted in the US Army upon graduation from Tyrone Area High School and completed basic training at Fort Benning, Georgia, and began training to become a member of the airborne infantry.
He was sent to Caserma Ederle, a base in Vicenza, Italy, where he served in the 173rd and 503rd Airborne Brigade.
As an airborne infantry soldier, Williams was trained to drop into battle zones, typically by parachute, and often behind enemy lines.
In April 2014, four paratrooper companies of the 173rd, including William's company, were deployed to eastern Europe to support America's NATO allies during Russian military action along the borders of eastern Ukraine.
In September 2014, Williams was one of about 200 soldiers of the 2nd Battalion, 503rd Airborne Regiment, 173rd BDE that participated in the exercise Rapid Trident near Lviv in western Ukraine.
Rapid Trident is an annual Ukrainian-led multinational exercise of about 1,300 troops from 15 countries including, Azerbaijan, Bulgaria, Canada, Georgia, Germany, Great Britain, Latvia, Lithuania, Moldova, Norway, Poland, Romania, Spain, the US, and Ukraine.
According to Hunter, Williams was impressed by the Ukrainian people and loved experiencing different cultures.
"Kiley loved the people. He loved them all. And seeing all the countries. How folks lived so differently than us. He enjoyed helping the soldiers there and giving American money to small children," said Hunter. "He talked about the time he was in Ukraine training their soldiers and they would give the children American money and the children thought they won the lottery.
Airborne troops are known for having a strong brotherhood, and according to Hunter, Williams enjoyed the relationships he made with his fellow soldiers in his unit more than anything.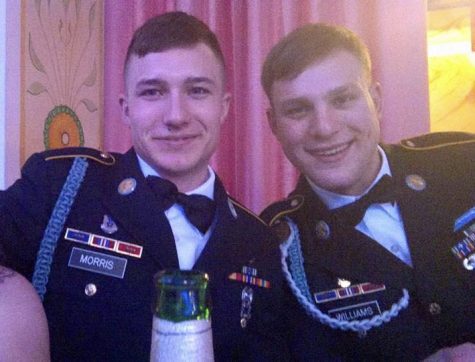 "Kiley talked about things he and his buddies did more than anything else," said Hunter.
Williams awards included the Army Commendation Medal, for distinguishing himself by a heroic action, the Army Achievement medal for meritorious service, and the Expert Infantryman's Badge, among others.
However, like far too many veterans, Williams' story does not have a happy ending. In March of 2016, Williams tragically took his own life.
"Kiley is one of the 22 a day," said Glenda Hunter, referring to the grim statistic that an average of 22 US veterans takes their lives every day.
Research shows that suicide rates for veterans are much higher than the general population, especially for veterans ages 18-30.
Williams' family honors his memory in many ways – including participating in local events for the veterans. They are also active members of the American Legion and the Patriot Guard.
The Patriot Guard is special to Hunter and her family because the group stood at William's funeral.
"The group forms a voluntary honor guard at military burials, helps protect mourners from harassment, and fills out the ranks at burials of the indigent and homeless veterans," said Hunter.
In addition to attending funerals, the group also greets troops returning from overseas at homecoming celebrations and performs volunteer work for veteran's organizations such as Veterans Homes.
Hunter would like people to take a "leap of faith", and normalize the stigma surrounding mental health. It is not a weakness.
According to Hunter, this is why she thinks this banner is important.
"We want to honor him and show respect for his service. We were proud of him. We do what we can to pay it forward to veterans," said Glenda Hunter.
---
The Veterans Crisis Line and Military Crisis Line connect veterans and service members in crisis and their families and friends with qualified, caring U.S. Department of Veterans Affairs responders through a confidential toll-free hotline, online chat, or text. Call 1-800-273-8255 Press 1.  Or text to 838255.
The National Suicide Prevention Lifeline is a national network of local crisis centers that provides free and confidential emotional support to people in suicidal crisis or emotional distress 24 hours a day, 7 days a week in the United States. Call 1-800-273-8255.
When commenting, please use your FULL NAME and a VALID email address. If you are a TASD student please use your school email address. Comments without names and valid email addresses may not be published. Thank you and please comment responsibly!