Juniors vs Seniors Powderpuff Preview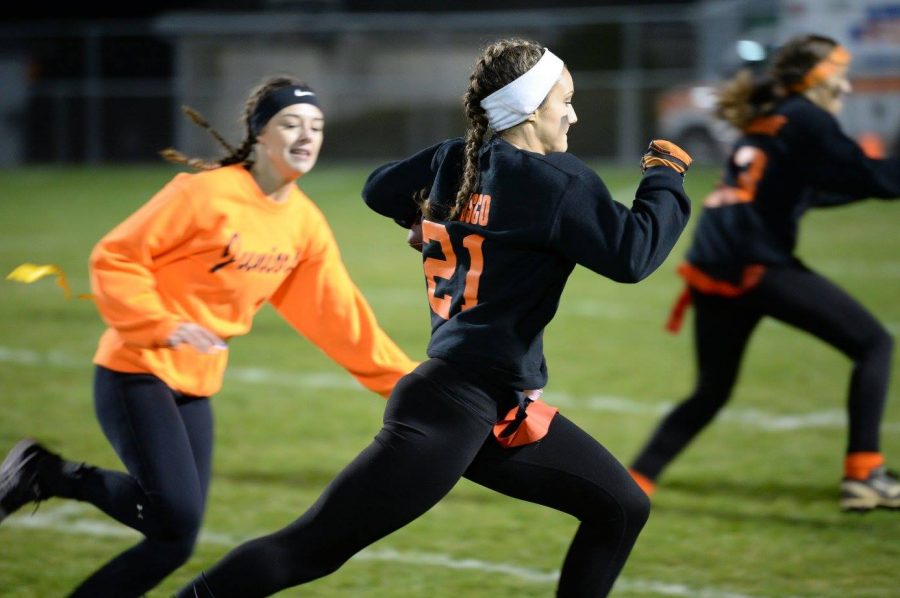 This Wednesday at 7 pm at Gray Field the Seniors will take on the Juniors in the annual powder puff game. And it's a big one.
"
A storms coming"
— Coach Braeden Nevling-Ray
As is tradition before this game, there has been some trash talk between the Senior and Junior class. And both classes are ready for the game.
"100 – zip seniors are gonna blow them out," said Senior Coach Cory Lehman.
Going into the game the seniors are very confident after having experience from last year's game.
"[The game from last year] has prepared me for this year because I have a better understanding of how the game is played. The coaches have switched some people to different positions," said senior defensive end Brooke Welsh. "Seniors are gonna wreck the Juniors so hard they won't even see it coming."
The Juniors don't have the greatest track record but can prove themselves this year. With many talented players on each team, it's sure to be a close game.
"I don't know the exact score, all I know is the Juniors are gonna win," said Junior Coach Michael Stoner.
"I think the juniors are a lot more prepared [for the game] than the seniors, but it'll be a close game," said quarterback Lauren Ross.
Senior Coach Aric Reader has a different view for the game "Pain."
Coach Reader also said "When the mega powers coach a team, it makes a mega powers team."
Senior Coach Braeden Nevling-Ray has monitored the team and thinks they're ready for the game.
"A storm's coming," said Coach Nevling-Ray.
About the Contributors
Dean Grassi, Staff Writer
Hello there, I'm Dean Grassi and I'm a junior. my extra-curricular activities are football, tennis, POPS and drama club. I like the aggression in football,...