Every year, YAN averages between 50-75 student members, including student-elected officers. The group is confident that they have already made a prominent impact on their world, both near and far. To date, YAN has raised approximately $17,000 for the Panzi Hospital.
In addition, YAN has contributed over $1,000 to the local Tyrone Food Bank and $1,350 to the American Red Cross.
The money YAN has donated helps keep stability at Panzi and is used for a variety of things.
Executive Director of the US Office of the Panzi Foundation Emily Warne is one of YAN's main connections with Panzi. Warne is very grateful for Tyrone's continued support.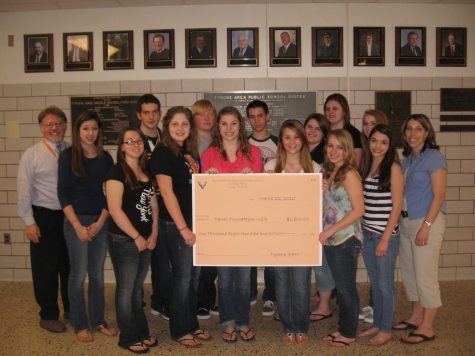 "The donations from Tyrone High School are used for whatever is needed most at that time. That could be anything from procuring personal protective equipment for our staff at the hospital during the pandemic to helping former survivors evacuate from their homes during natural disasters, such as the Mount Nyiragongo eruption last year. The flexibility of donations like those from the Pennies for Panzi campaign allows us to respond nimbly when unexpected situations arise, and we're grateful for the support of the Tyrone community for so many years," said  Warne.
Recently, YAN  also began working with students in the Inuit village in Northern Canada, and the group hopes to create a connection with the Navajo students of New Mexico. Eventually, they hope to extend their efforts to the students of the Democratic Republic of the Congo.
Redinger says it is important to help these people through the kindness and love we as a community can share.
"To see, listen, and engage with those involved in helping defenseless women, children, and communities survive, and hopefully, overcome the hardships they are experiencing is very rewarding," said Redinger. "We may never meet the people we help support, but to know that our contribution (whatever it may be) touches another's soul and helps restore their health, their hope, and their future is helping make a difference in humanity. It's an act of kindness that truly changes the world for the better and helps spread love to others."
Mr. Cummins McNitt, YAN's co-leader and history teacher at TASD, feels that his students are learning important lessons while helping others: "The mission of YAN is to educate and to take action on local, as well as international humanitarian issues," said McNitt. "Personally, I see this as an opportunity to teach both empathy and a greater understanding of international issues that impact on all of humanity."
When it comes to Dr. Mukwege, he is the perfect example of leadership and is a prime example of someone students should look up to.
"He is truly one of the world's most exceptional human beings and an example and inspiration to people everywhere," said McNitt.
YAN may be helping the Panzi Hospital with their funds by making generous donations, but the impact and life lessons the Panzi Hospital has left on YAN members are indescribable.