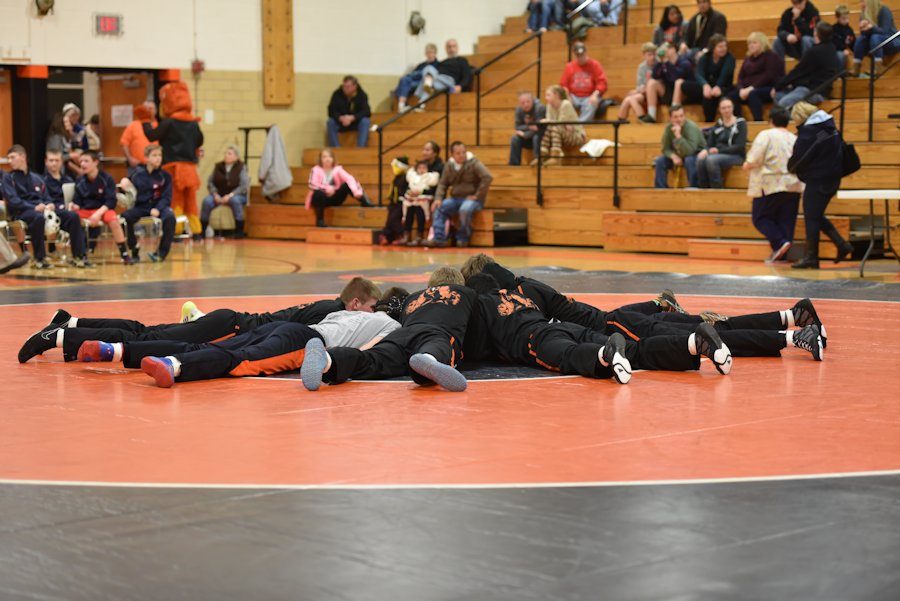 The 2016-17 wrestling season was full of ups and downs, and even though their record was not as good as they had hoped, the team showed steady growth under first year head coach Terry Tate.
"The number one thing that I am most proud of is how the staff was able to plant the seed of a winning mindset for the years to come," said Tate. "This team changed the atmosphere of Tyrone wrestling back to what we want to see. By the end of the year, everyone got better and everyone was working hard without any excuses. I am proud of the way this team matured."
The Eagles were led by seniors Devon Brown and Sage Dixon.  They also benefited from several new senior wrestlers that improved tremendously throughout the season. Seniors Colby Pannebacker, Brian Gunter, and Levi Railing help lead the team with maturity and a hard work ethic.
"We worked hard and I only have good memories of Tyrone wrestling. I want to encourage people to take the challenge and wrestle for years to come for Tyrone," said senior Devon Brown.
This year's senior class will always have a special place in coach Tate's heart.
"We had a good group of seniors this year who were looked to to be leaders and that is what they did. Some lead by example, others lead more vocally but they all impacted the team in one way or another. I would just like all of them to know that I am proud of them and the work they put in and for some of them the season did not end up the way they wanted but when they look back on their experiences I am confident that down the road it will help them to be better human beings. Wrestling is an amazing sport but that's all it is, a sport. Some day the final whistle will blow and you will have to face a world without it. Hopefully you paid enough attention to the journey to know that the end result wasn't always what it was all about and that it's the journey that made you the man you are," said Tate.
The Golden Eagles also had several underclassman that grew as the season progressed. Juniors Derrick Harris and Jamal Hicks were returning letter winners and stepped up this season to qualify for the regional tournament. Coach Tate hopes this experience of regional wrestling will help them as they go into their senior season.
"Jamal and Derrick were captains this year and it is a wonderful feeling knowing that we will have them back again next year to lead the team. They had very successful seasons but I know that they aren't satisfied and that's what I want. I want them hungry and ready to take a young team next year to their limits. Both wrestlers are much better than they themselves believe and when they realize how good they can be and tap into that potential," said Tate.
As for the future, Coach Tate is very excited. "I can't say enough about our elementary program, the guys in charge of that are absolutely incredible. Our junior high staff fielded a full team this year for the first time in probably 10 years, they work tirelessly and I am very blessed to have all of the coaches in this program from the elementary up through varsity," said Tate.
The season may be over, but the Golden Eagles will not rest for long.  The returning wrestlers will soon start off-season workouts in preparation for next year. With lots of youngsters who have gotten there feet wet in their first season, the future is promising. But according to Coach Tate, the team is still in need of wrestlers and welcomes all students to try out the sport of wrestling.
"If you would like to come out and give wrestling a try, please feel free to come out and get into it. Listen to the announcements for more information on open rooms and off season workouts. All are welcome," said Coach Tate.