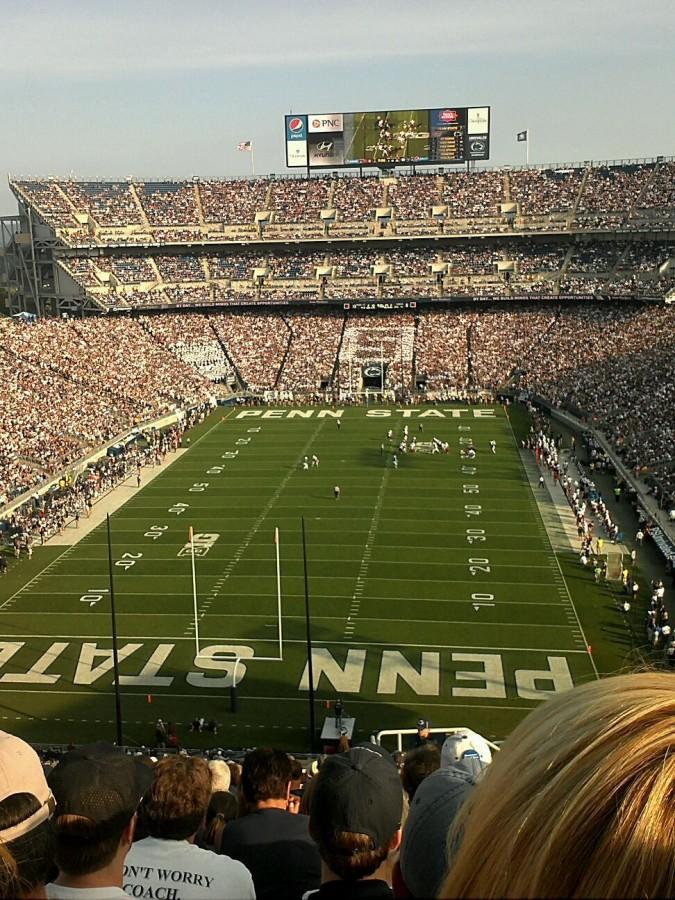 Photo courtesy of Darren Reese
With most of the sanctions from the Jerry Sandusky scandal finally behind them, Penn State isn't just playing for pride now, they are playing for everything…including a potential bowl game.
The four year bowl ban has been lifted by the NCAA after just two years.  The NCAA chose to lift the ban because the PSU board was complying fully with the NCAA's punishments. Penn State will also get all football scholarships back starting next season.
Tyrone being less than thirty minutes from State College, this is Lion Country and reaction to the news locally was big.
Sixth grade teacher Scott Bouslough is a long time Penn State Fan and season ticket holder.  Bouslough was happy that the ban was lifted, but he's still looking for more from the NCAA.
"I think its a great thing for the current players that stayed with the team knowing they couldn't go to a bowl game.  They deserve it," said Tyrone middle school teacher and Penn State fanatic Scott Bouslough, "I also think Joe deserve the wins back. The NCAA was not [fair], it wasn't a football thing it was a criminal thing, the whole thing was a joke."
Tyrone school nurse Julie Patton is also a season ticket holder and longtime fan.  Her reaction to the news was also positive, but she is waiting for the Paterno statue to return to its former home in front of Beaver Stadium.
"I'm thrilled that the unfair punishment is over, but the games won't be the same until I see the JoePa statue in its original spot by Beaver Stadium," said Patton.
The PSU student body also wants to see the Paterno statue returned to the location near Beaver Stadium.
Many students showed up at the former site of the statue as soon as news of the sanctions being lifted was announced.  The statue was removed in the wake of the Jerry Sandusky scandal.  The also want to see Paterno gets his wins back.
TAHS gym teacher Marcus Owens, a Florida State fan, said "I'm not a Penn State fan but I'm glad to see the bowl ban got lifted its wasn't a football thing it had nothing to do with the players it was a criminal thing the NCAA was unfair."
The Tyrone student body was also overwhelmingly in favor of lifting the ban.
"I think its pretty good because now we get a chance to compete, I think the team is doing a pretty good job this year and I want to see them in a bowl if they can make it," said freshman Kathleen Cempa.
"I think its a great thing for the entire Penn State program overall. The fans, the players, the coaches – every one benefits," said senior Mark Lewis.