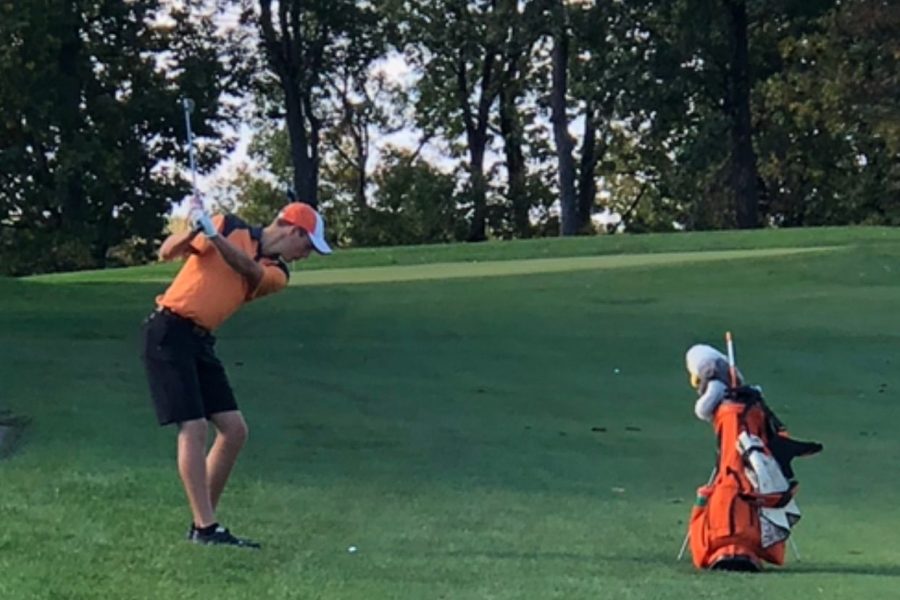 photo courtesy of Andrew Ferguson
Returning champions of the Mountain League, the Tyrone Varsity Golf Team swung into action as they prevailed in their first two contests of the season at Clearfield Curwensville Country Club, and Sinking Valley Country Club.
"We have a lot of depth this year. I had high expectations for the group. I knew that the top seven players have play a bit over the summer. We are in good shape but we need to keep on our toes to continue winning," said coach Greg Ferguson.
In the first match of the season at Clearfield, Tyrone's senior leader Andrew Ferguson led the team by shooting a 75. Junior Brent McNeel who looks to take over for Andrew Ferguson next season followed close behind with an 83. Sophomore Jake Taylor shot an 87. Junior Trey Kyle brought up the back with a solid 91.
"I had a great round. I was hitting my driver really well, and (I) was hitting almost every fairway," said Kyle.
Ferguson, McNeel, Taylor, and Kyle all drove their way into top 10 leader board at Clearfield. Tyrone is the only school in the Mountain League to have multiple players place in the top ten.
"It being my senior season it's great. But we can't let it get to our heads and get comfortable," said senior Andrew Ferguson.
In the second match of the season Tyrone had home course advantage as they took on the whole Mountain League once again. Ferguson cruised to the top of the leader board leading them with a score of 71. Jake Taylor finished second behind Ferguson tying his personal best of 78. McNeel followed not far behind with an 87. Kyle shot a 90 to seal the deal.
"There was a stretch of holes where I felt amazing. I went eagle, par, birdie, par, par, birdie on holes 7 to 12, and at that point I was getting really excited. Sadly, I finished my last five holes 5 over, but it was still a great day," said sophomore Jake Taylor.
Tyrone once again had two players reach top 10 on the leader board, Ferguson grabbing 1st place and Taylor taking 3rd place. Unfortunately, McNeel was just one stroke off of hitting the leader board.
Next on Tyrone's quest to repeat as champions of the Mountain League they will be heading out to Huntington on Thursday.