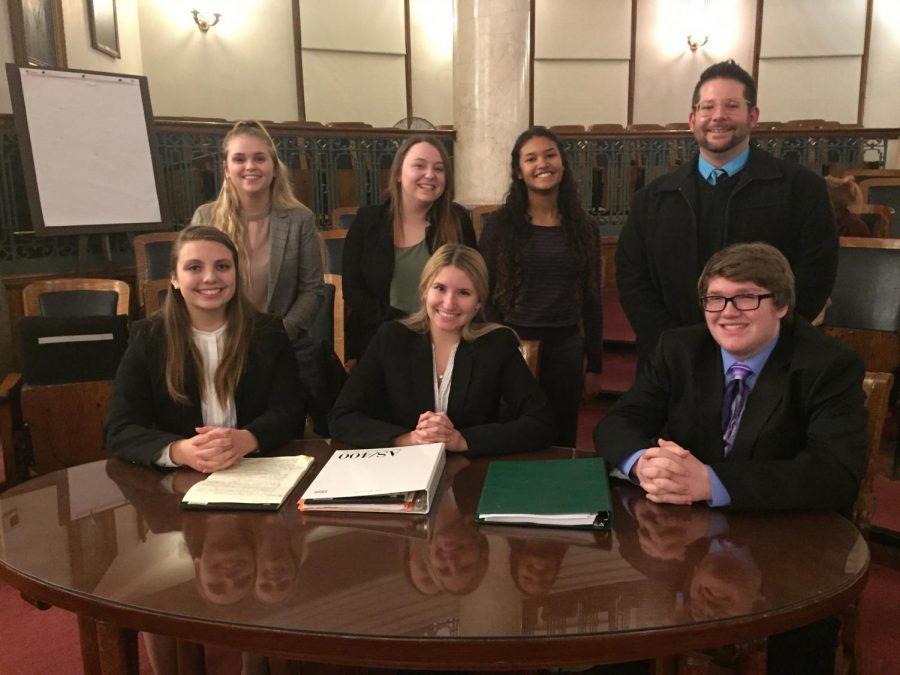 courtesy photo
The Tyrone Mock Trial B Team recently made history as the first Tyrone team to ever go 2-0 in their season and move on to districts. The team defeated the Altoona B Team last Wednesday arguing as the plaintiff.
The B Team was created just last year, and ended their first season with 0-2 record. The team went against the odds this year and flipped their record to 2-0. 
"There really are no words for how happy I am about this win. It's like a dream come true. We worked together as a team, and I couldn't ask for a better group of people to share this memory with. I can't wait to go to districts with them," said senior attorney Morgan Bridges.
The team has been working hard since the season started in November. They first argued the case the first weekend of January during the Pittsburgh Mock Trial Invitational. Tyrone B left the competition with two wins and two losses. Both wins were on the plaintiff side of the case, which was the side that the team argued against Altoona B.
Tyrone B Team's plaintiff side has been undefeated so far.
"To think about where we were just a couple months ago and compare that to where we are now is amazing. I think we have grown not only as a mock trial team but as a family," said Bridges.
Two team members went home with individual awards for their performance.
Freshman Anna-Lynn Fryer was awarded the Best Advocate Award and senior Amy Long was awarded the Best Witness Award.
"I was so happy that I was chosen for Best Advocate. It really made me feel more confident in my ability as an attorney," said freshman attorney Anna-Lynn Fryer.
The B Team will be back in action during the week of February 26, where they will face off against other teams that went 2-0 this season. If the B Team wins at districts, they will move on to regionals.
Until then, the B Team members plan to hold many practices and improve as a team.
"I think we had an overall good trial, but I still think we need to learn the case more before districts," said sophomore attorney Christopher Wilkins.
A week later, the team is still in awe that they will be moving on to districts. The members agree that they wouldn't want to end their regular season any other way.
"We got handed lemons and made pink lemonade," said junior witness Aary Wright.