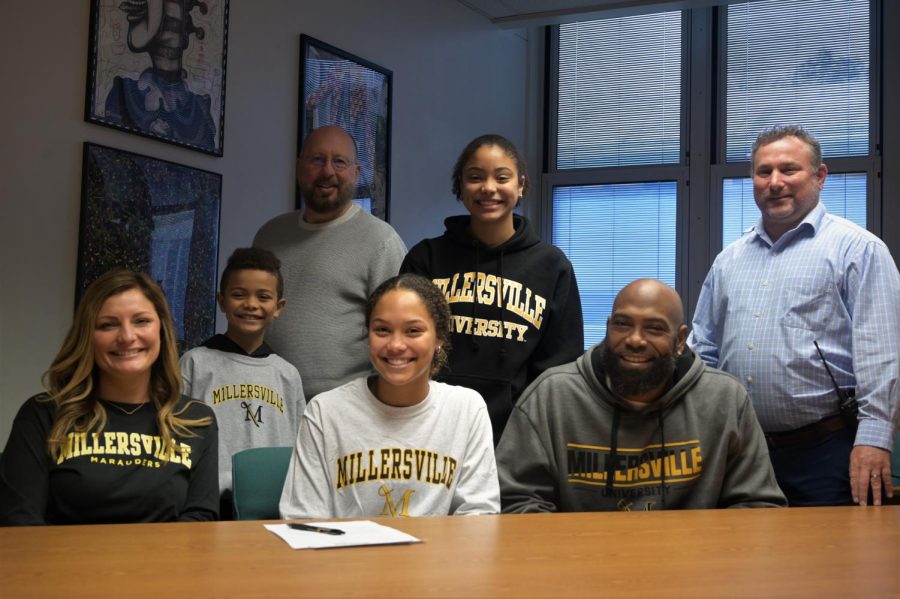 Ellie Oakes
Tyrone senior basketball standout Jaida Parker signed her letter of intent to continue her academic and athletic career as a Lady Marauder at Millersville University.
Parker will join the 2022-23 team as a small forward.
"Jaida and I have grown up playing the sport together, and she is one of my closest friends. She is very deserving of all of these accomplishments because of the hard work she has put in, and I am glad that I had the opportunity to play with her for all these years," said teammate Stephanie Ramsey.
Parker has been a four-year varsity starter for the Lady Eagles and was named the Mountain League MVP for the 2020-21 season.
Parker also surpassed 1,000 total career points last season.
In her sophomore year, the Lady Eagles made an appearance at the District 6 AA championship but lost to Cambria Heights. The girls later made it to the Elite Eight in the 2020 PIAA state tournament, but the remaining rounds were canceled due to COVID.
In Parker's junior year, the Lady Eagles won the Girls AA District 6 Championship against Bedford.
In the off-season, Parker played AAU basketball with the Central PA Dynamite, which was coached by Mike Reed and contained players from all over the area, including Bishop Guilfoyle, Claysburg, and Shanksville.
The Millersville women's basketball team is led by first-year Head Coach Sharay Hall. The program competes in Division II as a member of the Pennsylvania State Athletic Conference (PSAC). They have made the conference playoffs seven times since 2010. However, the program has not played in an NCAA Tournament game since 2010, and that is a goal Coach Hall is hoping to achieve in the coming seasons.
Millersville concluded the 2019-20 campaign with an 8-19 record. The Mauraders did not play the 2020-21 season due to COVID.
Parker also considered IUP, Saint Francis, Lock Haven, and various other small D3 schools. She ultimately chose Millersville for many different reasons.
"When I visited during the summer, I loved the campus. It felt safe and was somewhere I could really see myself. The coaching staff was very welcoming and I felt really at home with the entire team," said Parker. "They also have a very good sports medicine major, which was a huge factor in my decision to attend."
The Lady Eagles are hoping to make another run for the District Championship this year and with Parker returning for her senior season, the odds are stacked in their favor.