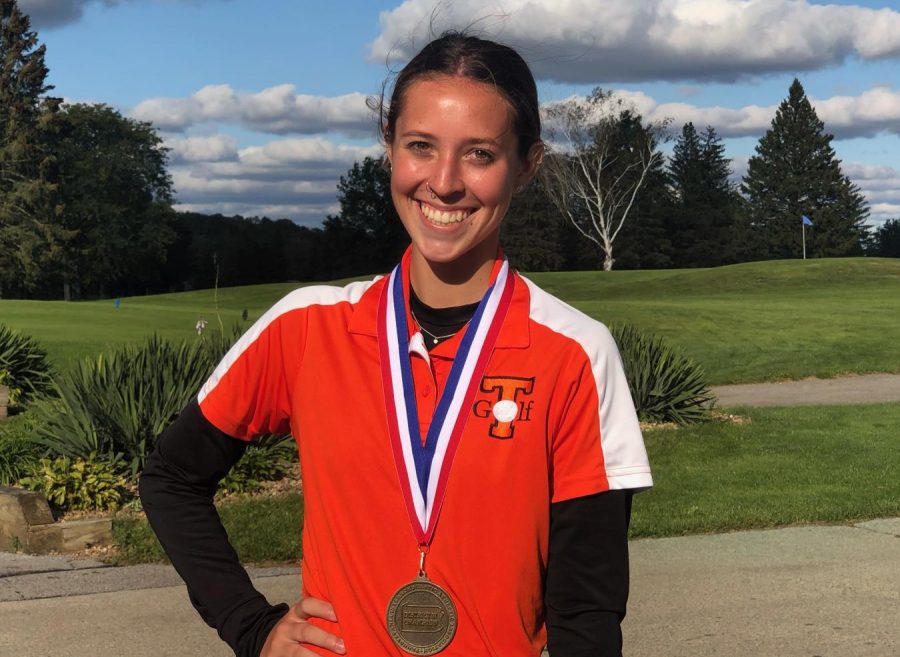 Tyrone junior Cassidy Miksich fought off a strong challenge from Westmont's Alyssa Kush, winning by two strokes with a 78 to become the girl's District 6 Golf Champion for the third consecutive year. 
"I was super nervous the whole match. I was one up on her through the front nine and I knew I had to keep my head in it. We had 2 or 3 holes to play and I was actually sweating and shaking because I was so nervous about our scores," said Miksich.
The district championship match took place at Windber Country Club on September 30.
The day was full of emotions for the Tyrone junior. Golf is often more of a mental sport than a physical one, and Miksich said that she was put to the test in this match, but by keeping a positive mindset and not letting her nerves get the best of her she wa able to play to her full potential and come out on top.
Tyrone Head Coach Michael Funicelli is proud of Miksich's accomplishments. 
"Being a district champion in any individual sport is a huge deal. I feel tremendously happy for Cassidy because she has earned these accolades by working hard and dedicating herself to the sport that she loves," said Funicelli.
Miksich puts in countless hours on the golf course, perfecting her skills. In the summer, she goes to the driving range and is out on the course as much as possible. In the spring, she competes in high school tournaments in the surrounding areas.
Compared to her first two district titles, Mikscih says this one is the most memorable.
"This year felt more like a 'win' in a way. The girl I played with shot her best round ever and we were so close the entire time. I was expected to win this year but I had to fight for it, so I am more proud of this one," said Miksich.
She is also grateful for her teammates and the continuous support they have given her throughout her matches. They have alway had her back and wish her good luck. 
Miksich says that couldn't have done it without them.
"They are just so supportive and motivating. They all wished me good luck before I played at districts and that made me so happy to know that they were thinking about my match when it did not affect them in any way," said Miksich.
Looking ahead, Funicelli has high expectations for what she can achieve.
"If Cassidy plays golf to the ability that Coach Steve and I know that she can, she will help our team qualify for the State Tournament and will finish as one of the top 5 best individual female golfers in the state," said Funicelli
Miksich will compete next at the regional tournament as a part of the Tyrone team on October 13th, and she will also compete individually at the state tournament on October 18th.