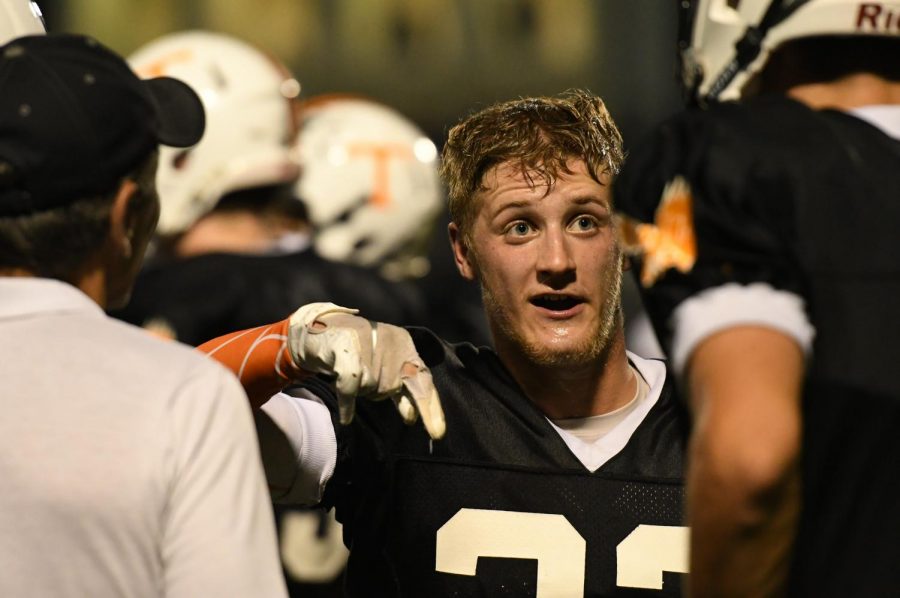 Lucia Isenberg
Tyrone senior Brandon Homan has officially committed to continuing his academic and athletic career at Misericordia University and will become a Cougar in the fall.
"I am excited to meet my new family and grow with them," said Homan, "but mainly I am excited to get back to competing again and playing the game I love."
Homan was a standout wide receiver, safety, and captain for the Tyrone football team. He was recruited to play safety for the Cougars.
Homan was also well respected in the classroom, taking many honors classes throughout his high school career, and is ranked in the top 40 of his graduating class.
He was voted as most athletic by his class in both his middle and high school yearbook. Homan also competed in track all through both junior high and high school. Throughout the offseason, Homan has been working hard to improve his game by lifting and going over drills.
In addition to Misericordia, Homan also considered Waynesburg University, Grove City College, and Washington and Jefferson, but felt Misericordia was the best fit for him.
As a senior captain at Tyrone, he was highly respected and his leadership will be missed.
"Brandon is a great leader, great football player, and an even better friend," said co-captain Kaleb Snook.
While at Misericordia, Homan plans to study business and hopes to become either an entrepreneur or a real estate agent.
"I believe Brandon will do a great job at Misericordia College," said Tyrone Head Football Coach Franco, "not only does he have the ability to play, but his outstanding work ethic and toughness as a player will lead him to success."
Misericordia is located in Dallas, PA near Wilkes-Barre/Scranton. The Cougars compete in the Middle Atlantic Conference (MAC) of the National Collegiate Athletic Association's Division III. In 2019, Misericordia had a 5-5 overall record.
Homan is very excited about this next chapter in his life and so is the rest of the Tyrone football community.
"I am very happy for Brandon and his family and I think this was a very good decision for him," said coach Franco.