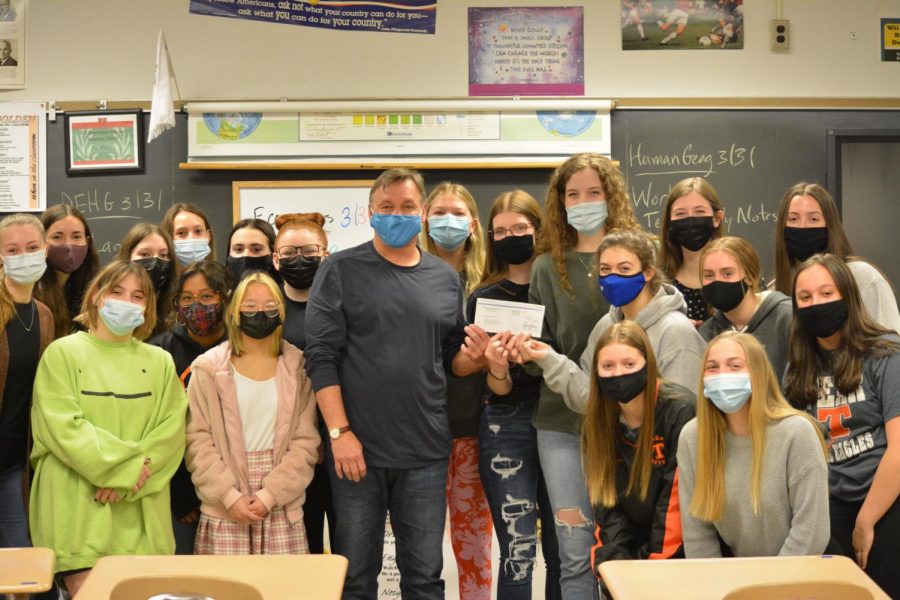 Lucia Isenberg
Tyrone's Youth Action Network (YAN) presented a $500 check to Panzi Foundation USA representative Peter Frantz on Wednesday, March 31. The money was raised from YAN's annual Pennies for Panzi fundraiser and their community Halloween Event.
Students at Tyrone High School have been supporting the Panzi Hospital in the Democratic Republic of Congo for over ten years, making its partnership with the foundation the longest of any secondary school in the United States.
"We would like to thank the Tyrone students for their continued support," said Frantz.
Since its founding over 20 years ago, the Panzi Hospital has earned a global reputation for treating survivors of sexual violence and their children. Its founder, Dr.Denis Mukwege, was the winner of the 2018 Nobel Peace Prize for his work.
"When we first started raising money for Panzi our funds were used to install plumbing and other mechanical needs at the hospital. A few years ago they asked us if they could use the funding for the school that is on the Panzi campus. Of course, we were delighted to assist the children. Today our funds are used for supplies needed by the teachers," said Tyrone social studies teacher and YAN advisor Cummins McNitt.
The bulk of the money raised by YAN this year came from the "Pennies-4-Panzi" campaign. Over the years, YAN has split the money donated at the Golden Eagle Halloween Event between the Panzi Foundation and the Tyrone Area Food Bank. YAN also accepts donations at all of their events throughout the year.
Because of COVID, the amount raised for the Panzi Foundation wasn't as large as in previous years, but every penny counts when it is going to a worthy cause. The YAN club plans to continue to support Panzi and other nonprofit organizations in many years to come.
"When our students work for the benefit of others it teaches them compassion and empathy. While formal education is critical to the wellbeing of our students, we think of equal importance in teaching our students to be good people, good citizens of our nation and our world," said McNitt.