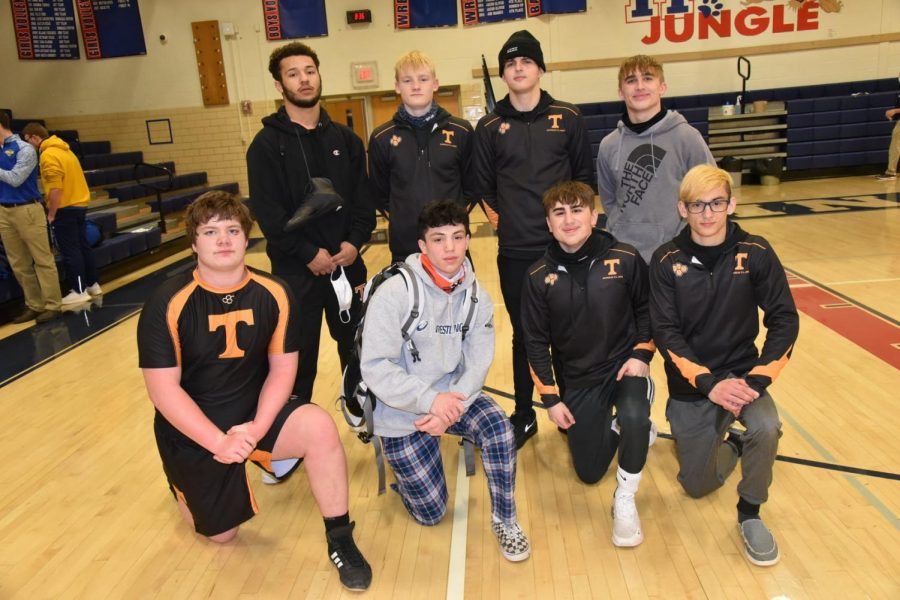 The 2020-2021 school year was strange to say the least but the Tyrone Golden Eagles Wrestling Team persevered through the strange times dealing with many unexpected rules and procedures.
The Golden Eagles finished their season with one of the best records in years (7-4) and almost everyone placed in sectionals. Tyrone had four district medalists, three regional medalists, and one super regional place winner.
Tyrone senior Hunter Walk was the highest placing finisher for the Golden Eagles. He had over 100 wins in his career and was a state medalist his junior year.
At the super regional tournament, Walk suffered an arm injury which prevented him from advancing to States.
With only four seniors graduating this year (Tommy Hicks, Alex Weaver, Parker Allen, and Hunter Walk) and multiple underclassmen Tyrone will have a strong season team for years to come.
Sectional Placers:
Korry Walls 1st (106)
Remington Fleck 3rd (113)
Hunter Walk 1st (120)
Ashton Sipes 1st (126)
Luke Walk 2nd (132)
Andrew Weaver 1st (138)
Reese Wood 1st (145)
Jermaine Myers 3rd (152)
Tommy Hicks 2nd (189)
Jason Barr 3rd (215)
Braden Ewing 2nd (285)
District Placers:
Korry Walls 3rd (106)
Hunter walk 2nd (120)
Reese Wood 3rd (145)
Tommy Hicks 3rd (189)
Regional Placers:
Korry Walls 6th (106)
Hunter Walk 2nd (120)
Tommy Hicks 6th (189)
Super Regional Placers:
Hunter Walk 6th (120)