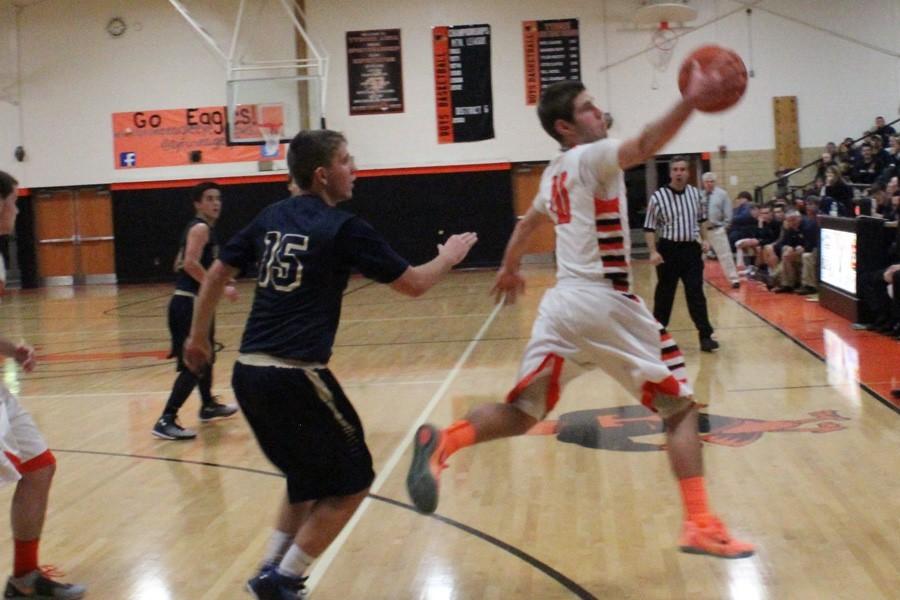 Grace McKernan
Tyrone travelled to Bald Eagle on Friday night and BEA was thinking upset on their senior night.  The game proved to be a signature win for the Golden Eagles, as they made a furious comeback in the fourth quarter to win the game and clinch a seventh Mountain League title for the Golden Eagles.
Tyrone had a great first quarter, dictating the tempo of the game, going up 20-11. Shane Geis, Pooky Soellner and Blake Brooks all had two three pointers. They went in at the half up by 9 points, 37-28, and it was looking as if this was another comfortable win in the making for Tyrone.
However, Bald Eagle was poised for a big comeback in the third quarter.
Bald Eagle outscored Tyrone by 19 points in the third, with BEA's Brandon Gettig scoring his 1000th point on a three point shot that really pumped up his team mentally. BEA rode the momentum through the entire quarter and was up by 10 as both teams entered the final quarter of play.
Tyrone came out fighting in the fourth but with several players in foul trouble, it looked like BEA was about to pull off the upset at home.
But with four minutes on the clock Tyrone and his team down by 12, Tyrone Head Coach George Gripp called time out to rally his team.
"I sat those guys down with four minutes to go and told them, If they somehow find a way to win this then, I've got a very special group of guys on my hands," said Head Coach George Gripp." I can't express enough about how these boys are willing to work together and not point fingers and just get the job done."
Tyrone was down most of the second half due to some extremely controversial officiating. But in the fourth quarter Tyrone battled back and scored 32 points to win a nail bitter.
In the final seconds of the game Shane Geis sent a rocket pass down court to Parker Mitchell who cashed in with a lay-up with 10 seconds left in the fourth quarter.
Bald Eagle then had an opportunity to tie the game with seven seconds to go, down by three. However, Tyrone's defense was the motor as the boys were able to expire the clock without a shot.
Pooky Soellner had a huge game hitting five three balls, two jumpers and wasa perfect 4-4 at the foul line for a total of 23 points.
"I seriously love my team, this was 100% group effort by the whole team," said Soellner, "I couldn't be any happier with this win, literally this was the best win of my life."
With Clearfield losing to Penns Valley on Friday night, The Tyrone Golden Eagles clinched the Mountain League Championship with the win.
"It is absolutely incredible playing with my teammates this year, its indescribable and I wouldn't trade it for the world." said Tyrone Guard Parker Mitchell.
The Tyrone Golden Eagles have a game against Penns Valley on Wednesday at home. Tip-off is at 7:00pm
Box Score
TYRONE (78): Pa. Mitchell 3 0-0 7, Brooks 4 0-1 12, Geis 4 0-0 12, N. Soellner 7 4-4 23, Lingafelt 5 2-3 12, Pr. Mitchell 1 0-0 2, Politza 4 2-2 10, Meredith 0 0-0 0, Z. Soellner 0 0-0 0. Totals — 28 8-10 78.
BALD EAGLE AREA (75): Butterworth 3 2-3 8, Gettig 7 5-7 20, Jones 13 1-3 31, Chambers 3 0-0 6, Onder 3 2-3 8, Barnyak 1 0-0 2. Totals — 29 11-17 75.
SCORE BY QUARTERS
Tyrone…………………………………………………………………………..20 17 9 32 — 78
Bald Eagle Area …………………………………………………………..11 17 28 19 — 75
3-point goals:
Tyrone: 14 (N. Soellner 5, Brooks 4, Geis 4, Pa. Mitchell);
Bald Eagle Area: 6 (Jones 4, Gettig, Butterworth).
Records: Tyrone (18-2); Bald Eagle Area (8-12).