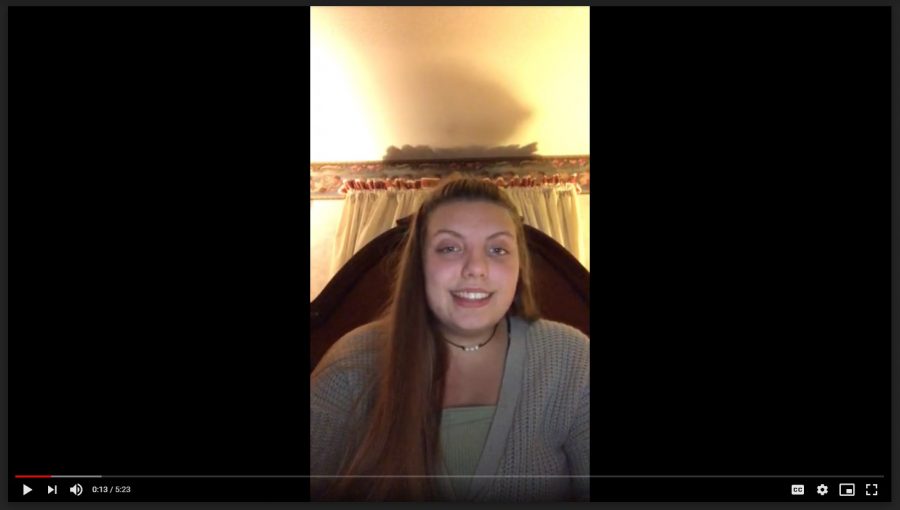 Screenshot from video by Anna Lynn Fryer
The Tyrone Speech Team won the first-ever Central Pennsylvania Speech League virtual meet against Juniata Valley on November 19, 2020.
Sixteen speakers from Tyrone and Juniata Valley recorded their poetic, humorous, or serious speeches at home and uploaded them to a Google Classroom where four judges viewed and evaluated their submissions.
"We're thankful for our technology staff and our judges. They made all this possible," Leah Deskevich, Tyrone Area High School's Speech Team co-advisor, said, "but I do wonder what Tyrone's 1912 Debate Team would have thought of this. They took a train to Huntingdon to debate the Panama Canal–this year's team took their Chromebooks and smartphones home to compete via the internet."
Tyrone senior Anna-Lynn Fryer received the Best Overall Speech Award with her Voice of Democracy original work entitled "Is This the Country Our Founding Fathers Envisioned?"
Juniata Valley sophomore Grace Brown won the Best Senior High Speech Award with "Happiness" by Richenda G., and Tyrone homeschooler Raena Groner's rendition of Mike Rowe's "Don't Follow Your Passion" earned her the Best Junior High Speech award. 
Brown said she was ecstatic when she learned the league would still compete. 
"I know that things are very different this year," she said, "but I thought [the virtual meet] was organized, and everything was so easy to do," Brown said.
"I'm absolutely thrilled," Groner, a 9th grader, said. "I was kind of concerned that it would be hard to give a good speech to a camera, so I am super glad that I got such a good score."
Tyrone bested Juniata Valley for the All-School Average Trophy with a score of 59.8 out of a possible 64 points. Juniata Valley scored 56.1.
"A virtual meet provided a sense of normalcy when everything else is in flux," Juniata Valley's Speech Team advisor Andra Minor said. "Students were still able to practice their public speaking skills in a unique way. This shows that our students can be resilient in the face of adversity, a very admirable and important skill."
Williamsburg Community Junior/Senior High School's Speech Team advisor Elisabeth McMullin agreed.
"[A virtual competition] allowed students to practice a skill that is more in-demand than ever before. People need to be more familiar with seeing themselves on video for Zoom meetings, online classes, and conferences, etc. This [competition] was a great step in the right direction," she said.
The fall meet was Tyrone freshman Alysa Wheland's first competition. She won the Best Junior High School Award and shared this: "The ability to speak to a group of people with poise and confidence is a good skill to have because a lot of jobs require you to make speeches or present slideshows. It's a good skill to develop young."
The league will host its second virtual competition on Feb. 9, 2021, and hopes for a live competition on April 15, 2021.