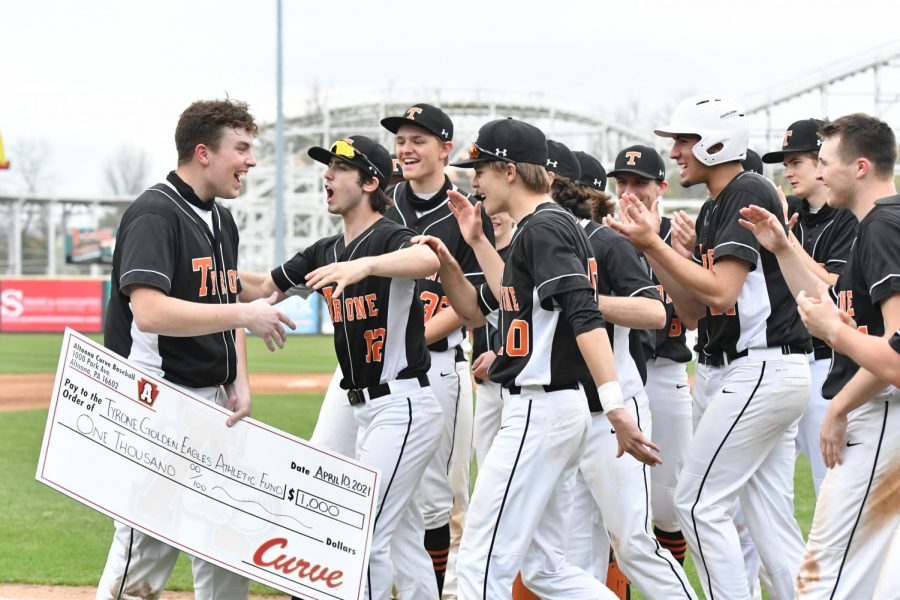 Ellie Oakes
Tyrone had a great run in the 18th annual Curve Classic, winning the tournament in their first trip to the event in Head Coach Kevin Soellner's five-year tenure.
Tyrone defeated Central 12-7, Altoona 7-1, and Bishop Guilfoyle 10-0 to bring home the Curve Classic Trophy and a $1,000 prize goes to the school's athletic department.
The best game by far of the series was the opening round game against the state-ranked Central Scarlet Dragons.
Penn State commit Aiden Coleman started on the mound for the Golden Eagles in round one against Central.  The first three batters he faced, Paxton Kling (LSU), Hunter Klotz (Kent State) and Devon Boyles (Radford) were also Division I baseball commits.
Kling, Klotz and Boyles got the better of Coleman in that first inning, as the lefty struggled to hit the strike zone and gave up six runs in the first three innings, but in the end, Thursday's game came down to Coleman's relief pitcher, Cortlynd Rhoades.
Rhoades didn't throw fast but he hammered the strike zone and the Golden Eagles got back into the game and eventually pulled away and won, 12-7.
Central led 4-0 after one inning thanks to four walks, two hit by pitches, and an RBI single by Klotz. The Scarlet Dragons drew 13 walks in the game but just one in the final two innings, and Hoenstine was upset with his hitters' approach following that final walk. Four of the final six outs were made in one-pitch at bats.
"We had a leadoff four-pitch walk (down by three runs), and then the next guy swung at the first pitch, and that's on me. I guess I should have given the take sign," Hoenstine said.
Tyrone started to turn the game around in the bottom of the third inning when David Lang's RBI single made it 6-3, but after Boyles struck out Zack LeGars, who later had a two-run double, for the second out.
With the bases loaded, Blaine Hoover hit the ball hard to left field. The ball skipped past the Central outfielder and bounced to the wall. The relay throw was dropped for a second error on the play, and everyone including Hoover scored to make it 7-6 Tyrone.
"It's always competitive (against Central) in every single sport," Hoover said. "When we play Central, we know we're in for a dog fight any time we step on a field, a court, anything against them. We're both good clubs."
LeGars threw five shutout innings, allowing only BG catcher Deven Wyandt's pop up single just out past first base in the third inning. LeGars did not walk a single batter, and struck out two.
"My teammates have my back out there, and I stayed focused as much as I possibly could," LeGars said. "Winning this tournament is a great feeling, but our next goal now is to win the district championship and move on to states. We know that we have to work hard in order to do that."
Tyrone guaranteed the win in the fifth inning with a run against BG's fourth pitcher, sophomore righty Nick Negola, with first baseman Ross Gampe's RBI double providing the clincher.
"I don't know what to say," BG coach Tommy Williams said. "(Tyrone is) a good team. You can't spot them any runs, and think that you're going to come back. We didn't hit, and we made some errors in the field."
The championship victory capped off an impressive day for Tyrone (4-1).
"They still get three strikes and four balls," Soellner said. "They are the best and a great team. They have a high baseball IQ with A.J. coaching them, but they put in the work and they'll bounce back, I'm sure. We just were so excited to play here (in the Curve Classic), and I haven't really slept too much. I love it. I'm getting older, and I'm going to enjoy every minute of this right now."