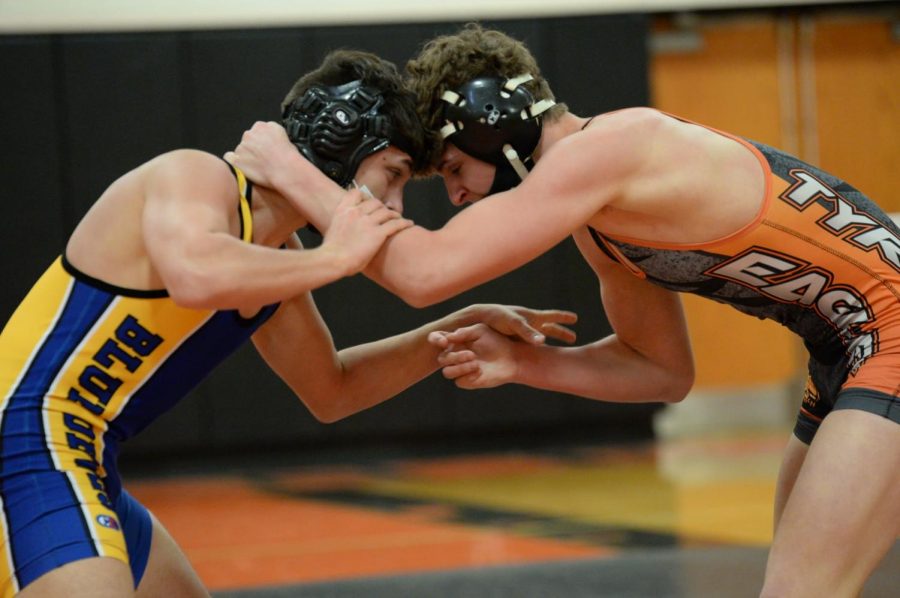 Terry McCaulley
The Tyrone Golden Eagles wrestlers exorcised the Bellwood Blue Devils last night with a dominating 54-11 victory to improve to 6-4 on the season.
"I think we looked great last night," said Tyrone Head Coach Terry Tate. "We wrestled tough and our conditioning is coming along. I feel like we are making the most of our shortened season and it makes us excited to see how we do post-season."
To start the match, Tyrone got wins from Ashton Sipes with a forfeit at 126, Luke Walk with a pin at 132, Andrew Weaver also with a pin, and Reese Wood with a 6-0 decision over Bellwood's Xander Shank at 145.
"Reese wrestled hard and kept his foot on the gas. The score didn't show how much he actually controlled the match," said Tate.
With no match at 152, Bellwood scored when Blue Devil standout Aiden Taylor pinned Tyrone's Jermaine Myers, who moved up a weight class to wrestle Taylor at 160. Then at 172, Tyrone's Zack Lash lost by tech fall to Alex Taylor.
Tyrone then got pins from Tommy Hicks at 189 in 3:19 minutes and Jason Barr at 215 in 35 seconds.
"Butch Barr went out and took care of business. He has been pretty selfless all season and he stepped up last night when his number was called and got a very quick pin and bonus points for the team," said Tate.
At heavyweight Tyrone's Braden Ewing had the most exciting match of the evening, beating his opponent Nate Jennings in overtime with a quick slide by making the score 3-1.
"Braden came in and got a good win. He took 6 or 7 shots and never gave up. For a ninth-grader, he's very impressive," said Tate.
Tyrone got three more forfeits from Remington Fleck, Korry Walls, and Hunter Walk to make the final score Tyrone 54, Bellwood 11.
This was the class of 2021's last home match for TAHS, and even though he didn't get to wrestle, stand out senior Hunter Walk was pleased with the Golden Eagle's final home match.
"We didn't show up to lose, that's for sure," said Walk.
Individual Scores
126 – Ashton Sipes (T) won by forfeit (6-0)
132 – Lukas Walk (T) pinned Tyler McCaulsky, 4:30 (12-0)
138 – Andrew Weaver (T) pinned Nick Kost, 4:43 (18-0)
145 – Reese Wood (T) dec. Xander Shank, 6-0 (21-0)
152 – No match (21-0)
160 – Aiden Taylor(B) pinned Jermaine Myers, 3:25 (21-6)
172 – Alex Taylor (B) won by tech. fall over Zack Lash, 15-0 (21-11)
189 – Tommy Hicks(T) pinned Ethan Norris, 3:19 (27-11)
215 – Jason Barr(T) pinned Aarron Laird, 1:15 (33-11)
285 – Braden Ewing(T) dec. Nate Jennings, 3-1 (36-11)
106 – Remington Fleck(T) won by forfeit (42-11)
113 – Korry Walls(T) won by forfeit (48-11)
120 – Hunter Walk (T)won by forfeit (54-11)
Tyrone (T) Bellwood (B)