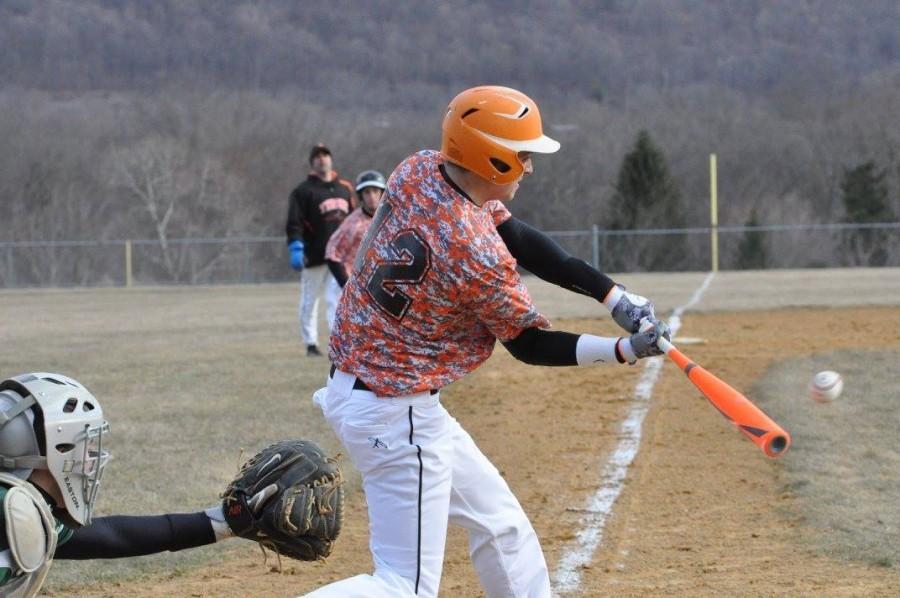 The 2016 Tyrone Golden Eagle baseball season opens on Monday, March 28 at Juniata Valley. This year's Golden Eagles face new challenges and higher expectations as they bring in new Head Coach Kevin Soellner.
The Eagles have a deep roster with thirty players out for the team this season, including seven returning seniors from last year's squad.  Leading the way for the Eagles will be seniors Zach Soellner, Anthony Politza, Chase Maceno, Drew Hunter, Coy Focht, Chance Burke and Matt Brenneman.
Click below to download a full preseason roster:
Boys Varsity Baseball
The Golden Eagles started practice two months ago. Mondays and Fridays were pitching clinics while Tuesdays and Thursdays were hitting clinics in the indoor cages. The past two weeks the team has been practicing outside, something the team hasn't been able to do this early in the season because of cold temperatures and snowy forecasts.
"This is the earliest we have been able to get outside before the first game. The weather and the field have been looking nice," said Coach Soellner.
Conditioning has been a big part of practice this year with making sure the kids are ready for the upcoming season.
"Practice has been going pretty well. The conditioning is definitely harder than last season. I feel the varsity team has more talent than any team in the area. We should have a winning season if everyone puts in the work,"said Junior starting pitcher Brian Gunter.
Senior Zack Soellner has been coached by his dad, new Head Coach Kevin Soellner his entire life. Being his last year at Tyrone, it should be a good memory for Soellner to play for his dad as a senior.
"We continue to get better with each practice, the whole team looks good at the moment," said starting infielder Zack Soellner.
One newcomer to the team who should make an impact is junior Alex Weaver, who moved to Tyrone from Altoona earlier this year.  Weaver is a steady infielder and a hard throwing pitcher that started practicing with the team recently.
"Practice is going great and I feel we will turn some heads this season," said Weaver.
"Defensively we have a power wall of pitchers so pitching shouldn't be a problem. Offensively we seem a little shaky, but I can see us pulling through in the upcoming weeks," said Coach Soellner.
Tyrone looks to improve from a 3-15 record last year despite the loss of two superstar players. With seven returning seniors that have experience playing and playing together, the team should be primed for an outstanding year.
The home opener is Friday, April 1st against Central Martinsburg.