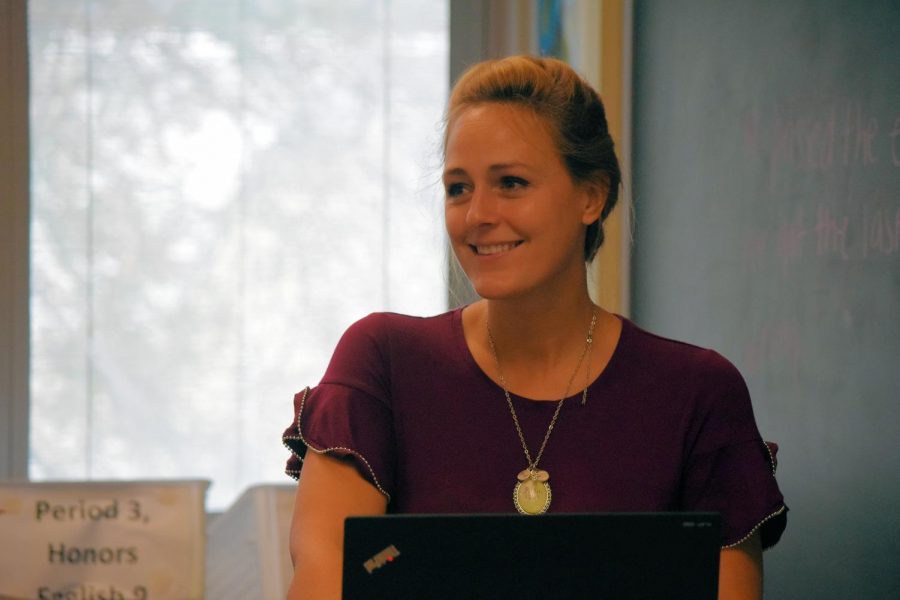 Mario Grugan
New freshman English teacher Karissa Budny brings a splash of color to Tyrone. Filling in for Mrs. Leah Deskovich, who is on a year-long sabbatical, Budny is a veteran of the profession.
She has taught in many places, including most recently at Penn State Altoona, where she taught rhetoric and composition classes to incoming college freshman.
Like all dedicated educators, Budny got into education for all the right reasons.
"I became a teacher for the summers off," said Budny with a sly smile.  
In all seriousness, Budny is an enthusiastic teacher with many aspirations for her students.  She is looking forward to a successful year.
"Even if my students aren't friends with one another they will at least be friendly," said Budny, "and by the end of the year, they will be able to write a killer essay."
A native of Ohio, Budny received her bachelor's degree from Baldwin Wallace University in Berea, Ohio. She also earned her masters degree from Youngstown University.
After teaching at Penn State Altoona, she came to Tyrone this year to teach freshman English.
Budny's role model was English teacher Tim Campbell, who taught in a rural area outside of Cleveland.   
"He had a good rapport with students and pushed them to do their best every day," said Budny.
According to several members of the freshman class, Budny is already making a positive impact on her students with her energetic style.
"It is an entertaining class and isn't boring," said freshman Jordan Keller.
An athlete at heart, Budny played three sports in high school and softball in college. 
Budny also loves animals, but instead of a traditional cat or dog, Budny has a bunny named Peanut.
"They are soft cuddly and don't make much noise,"said Budny
Being an English teacher, of course Budny loves books.  Her favorite book, Carry on Warrior, The Power of Embracing Your Messy, Beautiful Life, helps inspire her to build a better life for herself and her students.
"I want all [my students] to live up to their full potential, whatever that may be," said Budny.