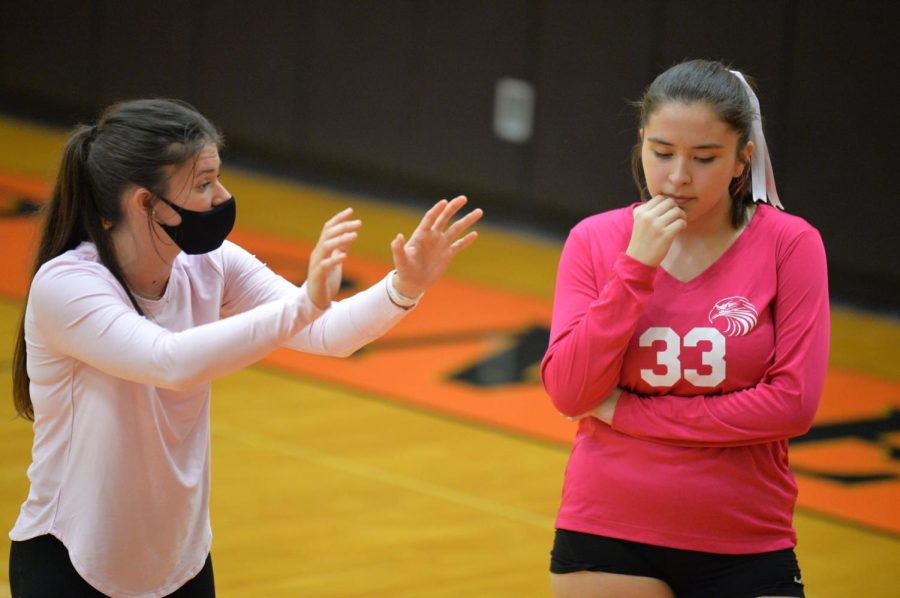 Terry McCaulley
Tyrone girls volleyball coach Brandi Moyer is off to a good start in her first season at the helm of the varsity program. Her team has a 6-4 record and she already has two signature wins over rival Bald Eagle Area to her coaching credit.
Moyer took over the program after former Tyrone head coach Mike Kraft resigned following last season to pursue other coaching opportunities. Kraft took the Tyrone program from the bottom of the Mountain League and built it into a consistent contender.
According to Moyer, that is why she was so interested in the Tyrone head coaching job. Moyer applied for the position specifically because of the team's recent success and the culture that already exists within the program.
"I chose Tyrone because of the amazing community and family that was built around the program. Having that support and passion in a program is exactly what drew me to accept the position," said Moyer.
Moyer comes to Tyrone with a lot of previous coaching experience, but one of her biggest assets is her youth and ability to relate to her players.
"Having a young female coach who understands us is a big help. Plus, she is really committed to winning and pushes us to go far," said Tyrone junior middle hitter Piper Christine.
Moyer's interest in volleyball began as a child, watching the 2004 USA Olympic gold medal-winning women's beach volleyball team. 
"The U.S. Women's team of Kerri Walsh and Misty May won the gold medal in Athens, Greece and I think the passion that they played with had a huge impact on my decision to commit to the sport," said Moyer.
Moyer started playing volleyball herself in seventh grade, even though her school district didn't have a junior high program at the time. She then played high school volleyball at Blue Mountain High School, where she was primarily a setter but had experience playing in many different positions.
After high school, Moyer attended Kutztown University in 2012, where she studied psychology and early childhood education. 
Although she did not play volleyball at the collegiate level, she began pursuing a coaching career while in college with a college team and a local volleyball club, said Moyer.
Three years later, in 2015 Moyer earned her first coaching job at the high school level as an assistant coach for Schuylkill Haven School District.
Moyer has coached multiple travel USA and AAU volleyball club teams, including the Horseshoe Volleyball Club based in Tyrone.
According to Moyer, her interest in coaching stems from her love for the sport and her belief in the importance of being a positive role model for young athletes.
"I was inspired by a love for the sport and how important it is to have knowledgeable coaches educate athletes to become the best version of themselves," said Moyer.