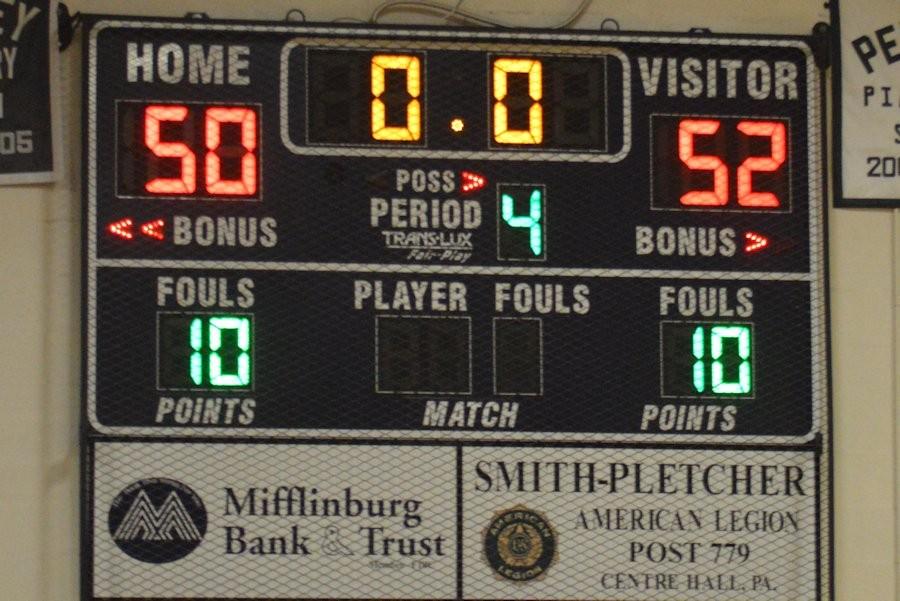 Bry Taylor
The Tyrone boy's basketball team won a thrilling game that came down to the final second on Wednesday night at Penns Valley.
In a game that was back and forth for much of the first three periods, Tyrone was able to build a 10 point lead with less than three minutes left.  However, a combination of Tyrone turnovers, fouls and good shooting by Penns Valley brought the Rams back within two points in the final seconds.
But Tyrone held on tight and ended up getting the win 52-50.
The game started out slow for both teams. At the end of the first quarter PV was leading Tyrone 14-11.
Penns Valley held a narrow lead for much fo the first half and at halftime was up by five.
After the half the Golden Eagle defense played well, keeping Penns Valley under 10 points in the third quarter and the Eagles managed to tie the game at 33.
"We played with a lot of heart tonight, and made some big time shots in the fourth." Said, Senior Guard Pooky Soellner.
Soellner Lead his team in scoring with 24 points Soellner also went 5-7 at the line. The team's foul shooting percentage was low at just 50% for the night. Penns Valley shot 15 of 19 for a percentage of 78% on the night.
Both teams came alive in the fourth quarter and played with much intensity. Tyrone scored 19 and Penns Valley had 17 in the final frame.
Big man Anthony Politza had a big night inside, scoring down low six times and shooting a foul shot for a total of 13 points.
"Very tough road game that both teams played very hard in," said Politza.
The Eagles are now back on top of the Mountain League with a record of 10-1 (6-1 in the conference).
"Overall I'm pleased with this win," said Head Coach George Gripp. "Any win down here is a great win."
Tyrone's next game is at home Friday against Mount Union. Tip-off is 7:00 pm.
Box Score:   1st   2nd   3rd   4th  Total
Tyrone:        11    9     13   19       52
PV                 14   11    8     17       50