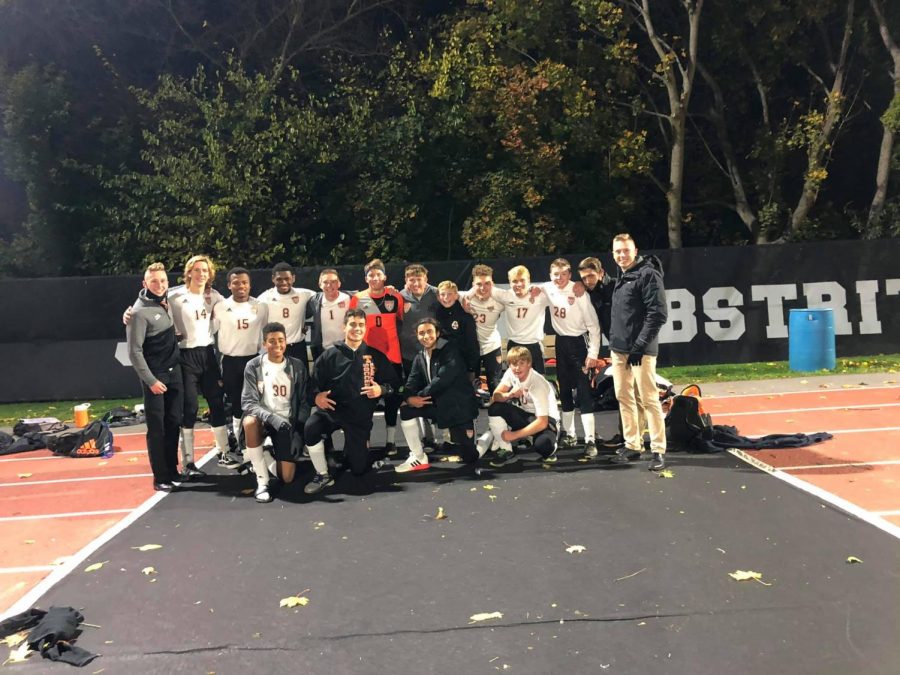 Shanna Thomas
Tyrone upset the top-seeded Bellefonte Red Raiders in the final 12 seconds of the game to send the Golden Eagles to the District 6 championship game at Mansion Park versus Hollidaysburg on Thursday.
Tyrone was the undeniable underdog in this game, losing to Bellefonte twice in the regular season by scores of 8-2 and 5-1.
"We came prepared with a specific game plan to beat Bellefonte and we executed it to perfection," said head coach Alex Bartlett.
The game started off with high energy and in the 13th minute, Bellefonte struck first on a through ball from the right side of the field where Bellefonte winger was able to place into the left side of the goal.
Tyrone answered with a penalty kick drawn by Alex Taylor. Talyor was able to sneak the ball underneath Bellefonte's keeper to tie the game 1-1.
With 8 minutes left in the first half Tyrone defenders fouled a Bellefonte attacker in the box and senior keeper Landon Bungo was given a yellow card before the penalty kick.
Sophomore Eric Sims was put in for the penalty kick and Bellefonte attacker was able to place it in the upper right corner to put Bellefonte in the lead 2-1 to end the half.
In the 1st minute of the second half, Bellefonte winger was able to steal the ball from Bungo and placed it into the goal of putting Bellefonte up 3-1.
Tyrone's senior Kelton Raabe then played a ball through the Bellefonte defense for Taylor to run onto and place it into the net making the score 3-2.
With 13 minutes left, Raabe stole the ball from Bellefonte Defenders and was on a breakaway when Bellefonte attacker tackled Raabe from behind to grant Tyrone a penalty kick. Taylor was able to tie the game 3-3.
"The defense played an all-around good game. We needed to clean the mistakes on our side, but shot-blocking and pressuring the ball was pretty good," said senior defender Mason Thomas.
With the clock winding down both teams did not want to go into overtime. Both teams had multiple chances on goal but it wasn't until 12 seconds left on the clock where Tyrone's Alex Taylor was able to secure the win.
Raabe won the ball at midfield and was able to beat a couple of defenders and found Taylor 15 yards out in the middle of the field where Taylor was able to put the ball over the keepers head for the win. Click the video above to see the winning goal.
Tyrone will head to the District 6 finals for the third year in a row against Hollidaysburg.
"I'm confident that it will be a very tight game. But we will go toe to toe with anyone in the area and fight for every minute of it. We aren't afraid of anyone," said Bartlett.