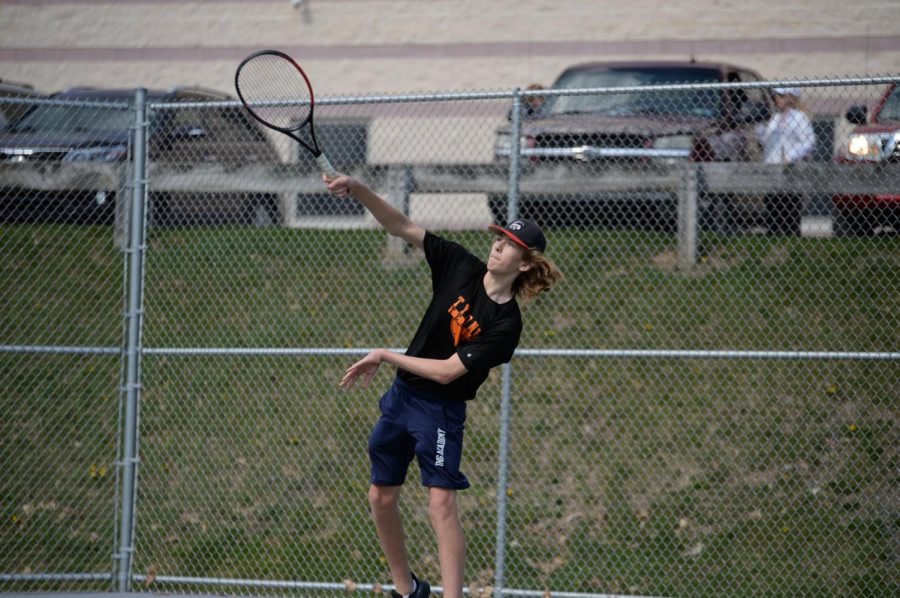 Nick Lewis
With last season canceled due to COVID, the Tyrone boys tennis team's quest for a Mountain League Championship has been on hold for over a year, but the boys are excited to be off to a good start this year.
In the 2019 season, the boys had a record of 7-9 and were co-champions in the Mountain League, but have plans to make that even better in the 2021 season.
"We are ready to hit the road for our revenge tour. As AC/DC said, it's a long way to the top if you wanna rock and roll," said senior Nick Lewis.
The boys roster consists of freshman Maverick Fleck, Remington Fleck, Elijah Walk, Cohen Wallace, Andrew Weaver. The only sophomore is Will Grot. The seniors of the team are Dean Grassi, Nick Lewis, Kelton Raabe, Andrew Savino, and Colin Yaudes.
With four seasoned seniors returning to the team they have a solid starting lineup and with the guidance of the older players, the freshman will become valuable members of the team.
The boys kicked off the season with a win over Mountain League rival Huntingdon Bearcats. Then on March 18th, the team won their first home match against the Windber Ramblers.
"I am looking forward to getting in a lot of matches this year and continuing the Tyrone tennis legacy and be the mountain league champs," said senior Kelton Raabe.
The Eagles lost to Hollidaysburg but recovered to win a key Mountain League match against Clearfield. A few days later the Eagles got their second loss in a tough match against Juniata.
With a win against Tussey Mountain, the boys improved their record to 4-2.
The boys go to Punxsutawney today where they will attempt to add a win to the record.