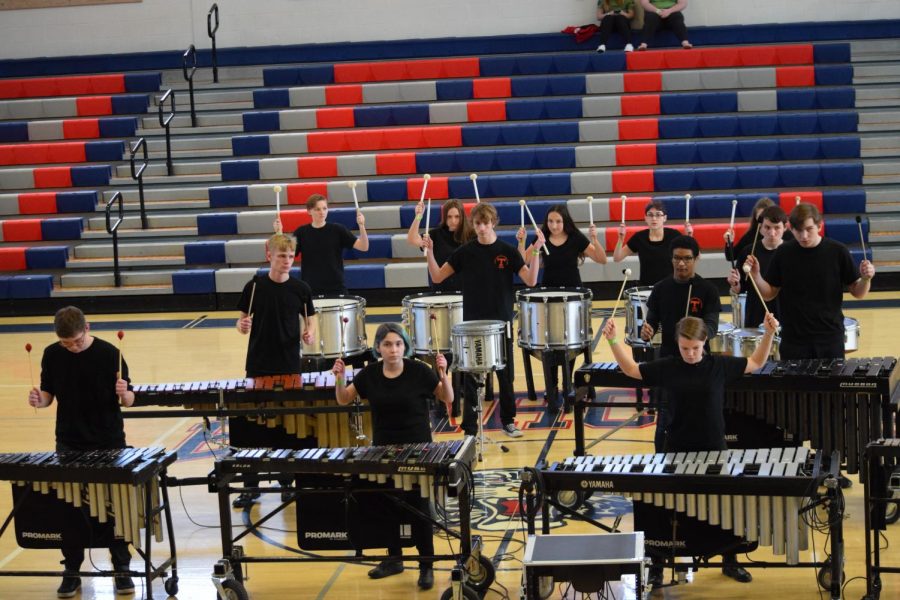 Steven Sessamen
Tyrone's Indoor Percussion, Star-lite Twirlers Jr, and Star-lite Twirlers attended Huntingdon's Indoor Spectacular.  All three teams placed with the highest scores in their division.
Tyrone Area High School's Indoor Percussion team competes in the Stationary Percussion category alone but won the highest score of the other bands; 75.5 points.
"I feel we did a great job," said percussionist Clifford Roberts, "We did a lot better than the last performance. It's a lot more fun compared to last year."
In the Marching Percussion category, Johnstown High School scored 72.2 points, Bellefonte High School scored 70.55 points, Darkhorse Percussion scored 67.6 points, and St. Mary's High School scored 65.1 points.
The Star-lite Twirlers scored the highest amount of points in the majorette division: 77.11 points.
"They did very well," said a parent of a percussionist, Vanya Davis, about both Tyrone based teams, "They went up by several points since their last competition."
The Diamondettes was the second place majorette team and scored 74.36 points, Bellefonte Area High School scored 74 points, Star-Lite Twirlers Jr scored 69.86 points, the Turbulence majorette team scored 64.51 points, Forest Hills High School scored 63.74 points, and Diamondettes Jr scored 61.93 points.
The next competition will be held at St. Mary's High School on March 21st.